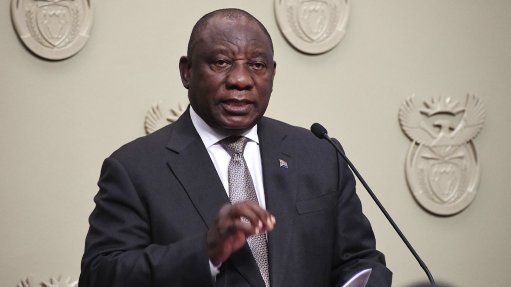 President Cyril Ramaphosa
President Cyril Ramaphosa appeared visibly shocked as he was told that Hammanskraal residents could have already had safer drinking water if a R295-million tender had completed its work in time.
Ramaphosa visited Hammanskraal on Thursday, where 23 people have died due to a cholera outbreak in the area.
Although the outbreak's source is unknown, the functioning of the Rooiwal waste treatment plant has been in the spotlight.
The president's visit began at the Rooiwal plant in Tshwane, where he met with officials who operate the plant.
Gauteng Premier Panayza Lesufi and Tshwane Mayor Cilliers Brink accompanied him.
The Rooiwal plant has been pointed at as the centre of the crisis facing the Hammanskraal community, who have lived without safe drinking water for years.
The plant, which was built in the 1970s, has been ageing for years. It is responsible for cleaning the bulk of the city's water.
A joint venture by companies with links to controversial businessman Edwin Sodi was awarded a contract worth R295-million in 2019 under questionable circumstances.
The contract with the joint venture was terminated in 2022 after failing to perform.
When the project came to an end, only 60% of the work was completed for phase one.
For the next phase, the City plans to source funding through a loan.
Ramaphosa was shown a portion of the plant with visible sewage streaming through pipes during his visit.
This area is where sewage is cleaned and eventually processed for later consumption.
But the bulk of the pipes in the water waste area are not functional, and instead of processing water to a light brown colour, it remains dirty and polluted.
A City official in charge of Tshwane's waste plants told Ramaphosa that most of the pipes were not functioning.
"The problem here is the colour is supposed to be light brown, but because a lot of the defuse pipes that pool oxygen into the water, some have popped, and some have burst. They are not all working, so we have a lot of leaks," the official, who identified himself only as David, told the president."We had done some work to fix the pipework and have it all done, but the project didn't run to completion and stopped at 60% because of tender processes."