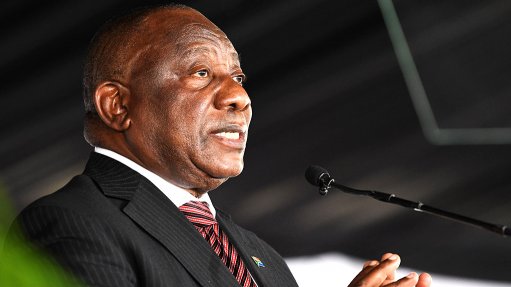 President Cyril Ramaphosa
President Cyril Ramaphosa has denied that the current process of re-examining the timeframes for the closure of coal power stations represents a reversal of the country's position on the just energy transition.
In his weekly newsletter, the President argues that any decision on decommissioning will be informed by a detailed technical assessment of the feasibility of continuing to operate older plants.
"It will also be informed by the timeframe in which we can expect new capacity from other energy sources and the impact on our decarbonisation trajectory," he writes.
Ramaphosa insists, too, that health and environmental impacts will be taken into account, including the assessment by the Presidential Climate Commission that South Africa's transition away from coal will prevent more than 400 000 avoidable deaths attributable to air pollution by 2050.
He stresses, however, that the country is facing an immediate energy crisis that may make it "necessary to re-examine the timeframe and the process of decommissioning or mothballing of coal-fired power stations temporarily to address our electricity supply shortfall".
Various commentators have warned that any delay of the decommissioning schedule could place the $8.5-billion Just Energy Transition Partnership (JETP) concluded in 2021 with France, Germany, the UK, the US and the European Union at risk.
The JETP and the Just Energy Transition Investment Plan (JET-IP) that was endorsed by the same partners in November 2022 is premised on South Africa meeting the decarbonisation commitments as outlined in its Nationally Determined Contribution, which is itself largely based on the official decommissioning schedule outlined in energy policy and by Eskom.
To date, Germany and France have each extended €300-million in concessional loans to the National Treasury under the JETP and, prior to the coal-extension announcements, discussions were under way on the next funding flows, which were expected to be aligned with the JET-IP implementation plan that is currently being finalised by government.
It is understood that Ramaphosa himself is preparing to meet with the JETP partners to explain South Africa's shifting position on decommissioning.
The newsletter offers something of a glimpse of his possible argument, with Ramaphosa suggesting that "few would argue that we should close down power stations even as we experience loadshedding".
He also highlights that a number of countries in Europe that have decommissioned or mothballed their fossil-fuelled power stations have since recommissioned some of them to address the current energy shortages as a result of the energy crisis that arose following Russia's invasion of Ukraine.
No mention is made regarding the fact that several European countries are moving to accelerate their renewables investments in direct response to the war and as a way of bolstering their long-term energy sovereignty.
"South Africa has committed to reduce its carbon emissions by 2030 to within a target range which, at its upper level, is compatible with limiting the global temperature increase to 1.5 °C.
"We remain committed to achieving this target . . . However, the manner in which these commitments are achieved must not compromise energy security or the immediate priority of reducing loadshedding."
Other countries, the President argues, have had to make similar decisions without deviating from their long-term shift to renewable energy sources.
"With so much at stake, we must ensure that our decisions are taken carefully and informed by science and evidence.
"Our position is clear and principled: it is possible for us to prioritise our immediate energy needs without jeopardising our climate commitments, and we are determined to do so.
"In fact, we must accelerate the pace of investment in new renewable electricity generation as an important part of the plan to overcome loadshedding," the President writes.