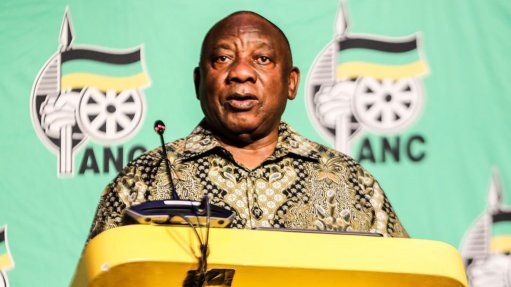 ANC President Cyril Ramaphosa
As economically-crippling loadshedding continues unabated across the country, President Cyril Ramaphosa has revealed that government is going through the motions to establish whether a National State of Disaster could be declared to alleviate power cuts.
Speaking at the African National Congress's (ANC's) National Executive Committee lekgotla in Johannesburg on Monday, Ramaphosa acknowledged widespread calls for a State of Disaster from various sectors.
"There was talk about a National State of Disaster, like what we did when we faced Covid-19, and there is broad agreement that we should proceed in that direction. Work is already underway within government to establish whether the legal requirements for the declaration of a National State of Disaster are met and what specific actions we would be empowered to undertake to urgently resolve loadshedding within the framework of a National State of Disaster. This matter will receive attention, including at the Cabinet Lekgotla, and must be resolved without delay," he said.
Also in attendance at the lekgotla was under-fire Mineral Resources and Energy Minister Gwede Mantashe. Calls for his dismissal have grown as loadshedding further strains the economy, businesses and society.
Ramaphosa assured that the response to the energy crisis would be escalated to higher levels of government and that there will be a clearer and singular message from government so as to not create confusion.
"We should welcome the perspective from commissions that ending the energy crisis must be a government-wide and society-wide effort. As the ANC, we have undertaken to playing an active role in mobilising all sections of society behind an urgent Energy Action Plan," he said and added that the lekgotla resolved to have the Presidency coordinate the processes to address the energy crisis.
ECONOMY AND EMPLOYMENT
The ANC highlighted the urgent need for massive investment for job creation and economic transformation through the mobilisation of government's social partners business, labour and community organisations.
Ramaphosa said it was resolved that the Economic Reconstruction and Recovery Plan (ERRP) be intensely implemented, particularly in the areas of localisation and re-industrialisation.
"We should deepen a developmental mindset in all that we do, and show deliberate leadership through articulating a clear programme for economic development through the ERRP," he said.
The ANC has identified the need to improve State capacity and utilise private sector resources for greater infrastructure investment and maintenance, especially in the areas of electricity, water and roads.
An ANC Delivery Command Center was touted at the lekgotla to tackle issues relating to service delivery.
Ramaphosa explained that all ANC branches would need to report on the state of service delivery and infrastructure maintenance in their respective branches.
The ANC has also resolved to carry out a skills audit for government employees to ensure the right skills are assigned to the necessary areas.
The need for finance to carry out the plan to municipalities will be necessary, and Ramaphosa pointed to budgetary processes to implement the programme.
"We also reflected on the phenomenon of the underspending of budgets and agreed that this must come to an end. If there is money it must be spent to good effect, funding the services that people need," he added.
CORRUPTION AND WHISTLEBLOWER PROTECTION
The lekgotla discussed the need to bring together society to fight corruption and resolved that ANC branches should be active in addressing concerns with its communities.
Ramaphosa said anti-corruption architecture would be reviewed as a new anti-corruption agency is considered.
Protection for whistleblowers by capacitating the Witness Protection Unit was suggested.
"Whistleblowers continue to face huge challenges in our country and they need to be protected because those who blow the whistle on corruption and fraud are doing a great service to our country," Ramaphosa acknowledged.