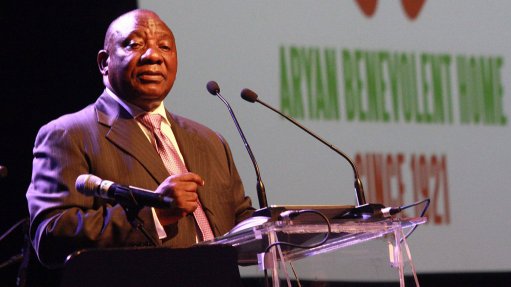 Deputy President Cyril Ramaphosa
Deputy President Cyril Ramaphosa has received a petition from the Democratic Alliance (DA) on Wednesday, calling for President Jacob Zuma to be fired.
"Deputy President Cyril Ramaphosa has noted and received the Democratic Alliance (DA) petition presented to the Office of the Deputy President on Wednesday, 02 August 2017, which relates to proceedings in Parliament on Tuesday, 8 August 2017," the Presidency said in a short statement.
"The matters raised in the petition will be dealt with by the National Assembly on 8 August 2017."
Zuma faces a no confidence vote in Parliament on August 8, amid growing concerns of endless reports of possible corruption linked to the wealthy and controversial Gupta brothers. National Assembly Speaker, Baleka Mbete, is yet to decide whether the motion of no confidence should proceed via secret ballot or not. The DA brought the motion.
On Wednesday, DA Leader Mmusi Maimane said the petition he delivered to Ramaphosa was signed by one million South Africans calling for Zuma to be fired.
"Today I have brought with me the signatures of over a million South Africans who did just that. More than a million South Africans who want us, the Members of the National Assembly, to put our country first and fire Jacob Zuma," he said in a speech prepared for delivery.
"And I have brought them here to the steps of Tuynhuys [in Cape Town] so that I can leave them in the hands of the Deputy President. Because if anyone needs reminding of exactly what must be done to save our country, it is Cyril Ramaphosa. Mr Ramaphosa, I call on you today to do what you know is the right thing. There is only one ethical and honourable course of action here. You know it, I know it, and every single South African knows it," he said.
"We call on you to vote to fire President Zuma in next week's motion of no confidence. We also call on you to use your position as Leader of Government Business to encourage [African National Congress] ANC MPs to vote in accordance with their oaths of office, and to vote President Zuma out."
He said South Africans want straight answers, and accountability.
Maimane said that apart from Ramaphosa's own sworn duty to your country, he has a responsibility to hold his ANC colleagues to their duty.
"Some of these colleagues have spoken out recently and said that they intend to vote with their conscience. MP's like Makhosi Khoza, Pravin Gordhan and Mondli Gungubele. But these people have been threatened with disciplinary action – even with their jobs. Is this what you fear too, Mr Ramaphosa?" Maimane asked.
"It seems that if you have a conscience in the ANC, you are done… We've been here on seven occasions in the past. And in seven previous motion of no confidence votes you and your colleagues in the ANC benches chose to stand behind a corrupt president rather than the people of South Africa. This eighth vote will likely be the last chance you will have to prove yourselves. If you fail to use it, you will sink along with the ANC."