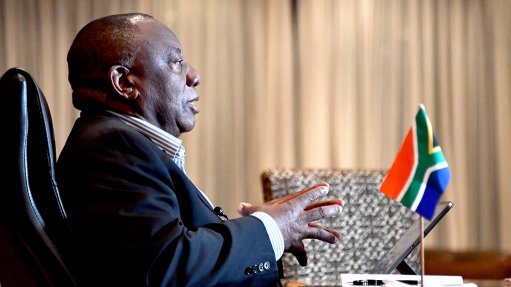 President Cyril Ramaphosa
President Cyril Ramaphosa has attempted to put a positive gloss on the uneven progress being made under Operation Vulindlela to reform South Africa's load-shedding-prone electricity supply industry.
Writing in his weekly newsletter, he said that "a number of important, interconnected reforms are under way to change the way that we generate and consume electricity".
Despite the fact that no new independent power producer (IPP) projects have achieved financial close since 2018 – and that for projects initially procured in 2014 – Ramaphosa wrote that the Renewable Energy Independent Power Producer Procurement Programme (REIPPPP) had been "revived" through the opening of new bid windows.
Ramaphosa's statement was reinforced in the first quarter Operation Vulindlela progress update, also referred to in the letter, which states that the revival of the REIPPPP is creating substantial new generation capacity, with a total of 6 800 MW of renewable energy being procured through current and future bid windows.
The report even assigns a 'green' status, which reflects a reform that is 'on track or under way', to the procuring of new generation capacity in terms of the Integrated Resource Plan of 2019.
However, a red status, reflecting 'critical challenges in implementation', has been assigned to the emergency procurement of 2 000 MW, under the so-called Risk Mitigation Independent Power Producer Procurement Programme, financial closure for which has been delayed four times.
The IPP Office confirmed recently that the 25 preferred-bidder projects identified under Bid Window Five (BW5) of the REIPPPP could not close by the end of April target date and that the deadline for the first 14 had been shifted to the end of July, while the balance were expected to close by the end of September.
Delays in receiving grid connection bid quotations from Eskom have been identified as a key cause, but the utility has denied that it is the bottleneck. In addition, reports have emerged pointing to serious difficulties in meeting some local-content thresholds and in securing the components and services needed to build the projects at a cost that is aligned to the tariffs bid.
The solar photovoltaic projects have a weighted average price of 42.9c/kWh, while the wind projects came in at a weighted average price of 49.5c/kWh.
The procurement architecture has also not been adjusted materially for BW6, which was released on April 6, with an August 11 bid-submission deadline.
In her weekly newsletter, meanwhile, Business Leadership South Africa CEO Busisiwe Mavuso describes procurement progress as a "mixed bag".
"The independent power producers programme was put back on track after years of delays and has conducted a fifth auction round and begun a sixth.
"However, there have been challenges in achieving financial close on projects that have been selected in round five, through a combination of bad policy around localisation and changing market conditions.
"The other disappointment has been the 'emergency' procurement round that bizarrely resulted in very expensive 20-year commitments to buy electricity from floating power ships that have been tied up in litigation since," Mavuso writes.
Another reform "milestone" highlighted by the President in his newsletter is the raising of the licensing threshold for new generation projects to 100 MW, and allowing such projects to connect to the grid and sell power to third-party customers.
The Operation Vulindlela progress update also assigns a blue status to the change, which denotes a 'reform completed'.
However, while there is significant interest in building distributed generation capacity, miners and other energy intensive firms have warned that the National Energy Regulator of South Africa's registration process remains burdensome and that they, too, are struggling to secure grid connection budget quotes from Eskom.
The President also highlights changes to the regulations on new generation capacity, which have allowed municipalities to procure power independently for the first time, as well as legislative reforms, which will "ultimately give birth to a new competitive electricity market, supported by the publication of the Electricity Regulation Amendment Bill and the work under way to amend the Electricity Pricing Policy".
"The process of unbundling Eskom is on track, with the entity meeting its December 2021 deadline for the establishment of a national transmission company.
"By December this year we hope to complete the unbundling of Eskom's generation and distribution divisions," Ramaphosa writes.