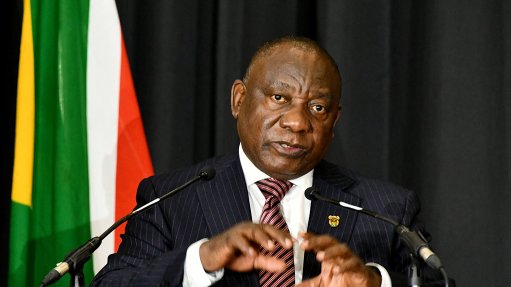 President Cyril Ramaphosa
President Cyril Ramaphosa has acknowledged that tariffs that reflect the cost of producing electricity are necessary for Eskom's financial sustainability, as well as for the utility to service its debt and to undertake the critical maintenance needed to end loadshedding.
Writing in his weekly newsletter he also affirmed the independence of the National Energy Regulator of South Africa (Nersa) in setting such tariffs using a prescribed process, which includes public consultation, as well as the "importance of following the due legal process in setting tariffs".
Without backing away entirely from his assertion that consumers should be shielded from the effects of the 18.65% hike approved for implementation on April 1, the President acknowledged, too, that "we should be wary of short-term solutions that we will regret in years to come".
Nevertheless, Ramaphosa still called on stakeholders to work on a solution that strikes a balance that ensures that "Eskom has the resources it needs to resolve the electricity crisis while protecting South Africans from the effects of higher prices".
"There is no simple answer to this problem," he conceded.
"That is why all stakeholders, including government, Eskom, business, labour and communities, need to work together to achieve a very difficult balance.
"At all times, we must be guided by the needs and interests of South Africans, especially the poor, both now and into the future."
After the President made a call on the Eskom board to consider delaying the implementation of the Nersa-approved hike, he highlighted that the regulator was the only authority able to determine electricity prices and that a decision could only be changed if it were to be reviewed in a Court of law.
"Once a decision has been made, Nersa lacks any power to re-examine its decision. Charging any price other than that determined by Nersa is not legally possible," the utility explained.
Several applications have been made to have Nersa's decision set aside, including one by the Democratic Alliance, which describes the January 12 decision as "irrational, unreasonable and retrogressive".
When the matter was raised with outgoing Eskom CEO André de Ruyter during a recent Standing Committee on Public Accounts meeting, he said given that the matter was the subject of litigation he would not comment "save to say that there are essentially two sources of enabling Eskom to recover its costs: either from those who consume electricity or from the taxpayer by way of transfers from the National Treasury".
For his part, Ramaphosa highlighted government's policy of providing poor households with free basic electricity.
"The free basic electricity allowance, if implemented properly by municipalities, should shield the poorest households from the effect of the tariff increase. We remain absolutely committed to this policy," he wrote.
A Public Affairs Research Institute publication showed that, in 2019, the national budget provided funding for a total of 9.8-million households to receive free basic services, including the 50kWh a month of electricity. However, only two-million households were actually getting the free basic electricity from their municipality.
"There are about 2.5-million households that are not connected to the electricity grid, and so they cannot get the free basic allowance. But even if we take account of this, it still means that there are 5.4-million poor households in South Africa that should be getting free electricity, but are not," the report stated.