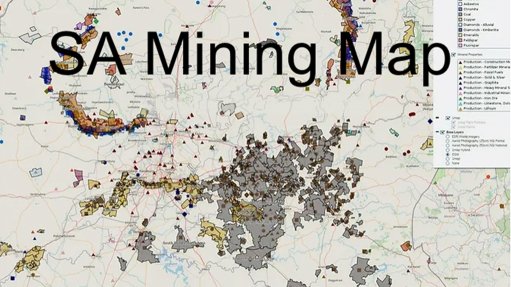 SA Mining Map published by AmaranthCX and 1Map.
JOHANNESBURG (miningweekly.com) – The lack of public sector transparency and emerging private sector silence from companies opting not to list are combining to limit South Africa's knowledge of the mining sector, and thus curb its growth prospects, Mining Weekly can today report.
Public sector opacity and private sector delisting without relisting, is leaving a worryingly high number of promising assets in seeming limbo.
Becoming increasingly farcical is the claim sung from legislative hymn sheets that it is the people of South Africa who own this country's minerals treasure chest.
Such thoughts emerge worryingly as one surfs the new SA Mining Map published by AmaranthCX and 1Map.
In the absence of public sector information of the kind that is commonplace all around the mining world – but not in South Africa – this private sector map throws as much light as possible on this country's mining and exploration.
As one surfs the map, one becomes increasingly alarmed by:
the number of awarded mining rights that are being honoured in the breach;
the number of prospecting rights that are being held on the never-never; and
the total absence of what should be obligatory information from unlisted companies that have acquired listed companies and then not only become silent but in some instances invisible.
When listed, one company published competent persons' reports that pointed to very promising mining potential, but since being acquired and delisted, what looked like something that would employ thousands of people could well be lying dormant.
Why is it that you can sit at your computer elsewhere in the mining world and receive:
information about what mining and prospecting rights are available for investment; and
the deadlines of exploration rights?
After nearly two decades of the promulgation of the Minerals and Petroleum Resources Development Act of 2004, obtaining meaningful minerals information is still not possible – and those meant to provide it are still not even outlining in detail what form the long-awaited South African management of mining and prospecting rights will take.
Without information, investment cannot be attracted, and without investment, the economy will not grow, and without economic growth, unemployed people will not be employed.
All other mining jurisdictions have understood that for decades and have had systems in place that shine a light on mining investment possibilities and limit official discretion.
In South Africa, it seems to be about excessive official discretion in an atmosphere very difficult to navigate.
With the privately distributed mining map, subscribers have access to two sets of data. The system has icons of different shapes and colours for each shaft and openpit. When mining is turned off, farm boundaries come into view.
Displayed are the very well-known eastern and western limbs of the Bushveld Complex and moving south the Central Rand, East Rand, and West Rand goldfields, as well as the Evander goldfields and South Rand goldfields, where Sibanye-Stillwater's Burnstone gold project is, come into view.
Next to that is the Mpumalanga Highveld and all the different coal and prospecting and mining rights.
"Some of the things that I came across while researching a lot of this map was information that I'd collected over decades, either in the back of my mind, or in informal databases and things," says AmaranthCX founder and director Paul Miller.
Turning back on the icons, reveals the now-closed Transvaal Navigation Colliery property. Zooming in far enough enables one to see dumps.
The mining areas have geological underlays, plus aerial photographs. Zooming in more brings Eskom's Kendal power station into view.
To identify a farm portion that might be perceived to host interesting geology, a click on area reveals the erf number or farm portion number for further research.
This is all completely normal government service in any country wanting to compete for investment.
This information is not secret. It is officially public information and the farm boundaries, for example, is data from the surveyor general.
So, how is it, then, that there is no official map? How is that even possible?