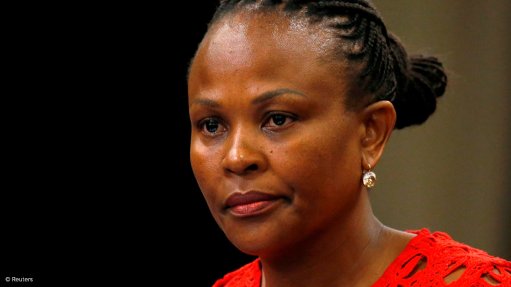 Public Protector Advocate Busisiwe Mkhwebane
The Public Protector is investigating a possible breach of the executive ethics code by KwaZulu-Natal health MEC, Nomagugu Simelane-Zulu, after a complaint was laid by the Democratic Alliance (DA) regarding Covid-19 statistics.
The Public Protector's spokesperson, Oupa Segalwe, confirmed the investigation, telling African News Agency (ANA) on Wednesday: "The Public Protector is looking into the complaint that the MEC breached the Executive Code of Ethics by allegedly refusing to release COVID-19 statistics to the public."
The DA's KZN health spokesperson, Dr Rishigen Viranna, said the party applauded the decision.
Simelane-Zulu has come under fire for not releasing local information related to the virus, which could help inspire behavioural changes and stem an increase in infections.
Viranna said the DA had filed a request with Simelane-Zulu's office at the beginning of the lockdown in March for daily Covid-19 information from local municipalities and sub-districts, but did not receive it.
"We've been asking for the localised information and the hot spot information since March, since the beginning of the beginning of the lockdown," Viranna told ANA.
"For example, the eThekwini region has around three million people, releasing information on such a broad level doesn't really help people. That's not enough to get the behaviour change we need in the public," he said.
He said the request for the information was merely a reiteration of what had been said by the World Health Organisation (WHO) and chairperson of the South African Medical Advisory Committee (MAC), professor Abdul Salim Karim, who had emphasised the importance of information sharing.
"Both Premier Sihle Zikalala and MEC Simelane-Zulu have this information at their disposal, yet these detailed local Covid-19 statistics remain unknown," Viranna said.
"According to the PP's correspondence, Premier Zikalala has been informed that his MEC is under investigation. MEC Simelane-Zulu must now account for her ongoing failure to fully release this critical information," he added.
Spokesperson for the provincial health department, Agiza Hlongwane, told ANA: "There are reasons why the information is being released the way it is".