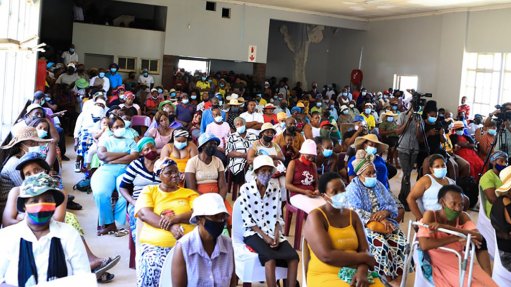 Some of the vulnerable members of society who have benefited from R15,5 million relief package after the devastating storm in Umgungundlovu district
Photo by: supplied
Pietermaritzburg: We continue to receive messages of appreciation from vulnerable members of society who have benefited from R15, 5 million relief package after the devastating storm in UMgungundlovu District.
This is in addition to the R15, 4 million relief package presented to communities in various wards in the district weeks ago.
We reiterate our commitment to respond with a sense of urgency to assist families that have been affected. We assist all families beyond political party affiliation.
Importantly, we reject the sideshow and grandstanding by the Democratic Alliance. The party's statement is laced with pure lies and fabrication aimed at sowing seeds of mistrust and racial division.
Here are the facts:-
The Disaster Relief Package is based on a government policy that applies to everyone irrespective of political party affiliation.
In simple terms, communities that are benefiting must satisfy, inter alia, the following criteria:-
1. Homes not insured;
2. Household income not exceeding the threshold;
3. Homes must have been profiled and found to have been destroyed beyond repair or had significant and material damage to the top structure. It does not apply to movable or minor infrastructure damage relative to the top structure as a whole;
4. The relief packages are limited to a Temporary Residential Unit or a voucher worth R 8000 to buy a building material.
We must hasten to point out that most of the beneficiaries come from informal settlements – most are very old and some beneficiaries come from poorly constructed homes.
We continue getting calls from affected communities and at no stage have we turned down requests on the basis of political affiliation.
Anyone who meets the above criteria and has not been covered during the profiling of affected households, is welcome to apply for assessment. Communities are being profiled continuously with the assistance of local councillors representing all municipalities
It is on these basis that we accordingly reject the false allegation of discrimination as peddled by the DA.
The people of this province have placed their trust and faith in us, so we offer not to let them down.
We commit to live up to the reputation the ANC, as the governing party, has carefully built over a century as a caring and compassionate movement deeply concerned about the upholding human rights and dignity. Having a decent shelter is part of the restoration of the dignity of indigenous people.
We want to thank local councilors that are working very hard to earn the respect of the constituencies that elected them. These are the councilors who understand that they were elected not for the purposes of self-enrichment and personal gain.
We will continue to support them and to respond to their calls for interventions in times of distress.
We will never be distracted by the DA – a party that is only pre-occupied with sowing racial division instead of building this nation.
Issued by the MEC for Human Settlements and Public Works Jomo Sibiya