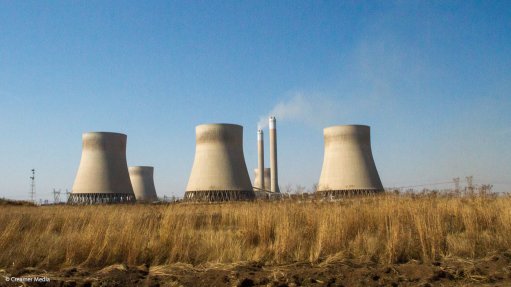 The Kendal power station is one of four being prioritised for technical support
Photo by: Creamer Media
Private sector support teams, assembled with the support of the R100-million Resource Mobilisation Fund (RMF), will be deployed soon across four troubled coal-fired power stations to assist Eskom with its Generation Recovery Plan.
Electricity Minister Dr Kgosientsho Ramokgopa initially indicated that the teams would officially begin work at Matla, Kriel, Majuba and Kendal on June 5, but the terms of reference were not finalised in time and the deployment is expected to take place later this week.
The teams have been given specific targets for the recovery of each plant's energy availability factor (EAF).
At Matla, which could produce up to 3 450 MW, an 11% EAF improvement is being targeted through actions focused specifically on improving coal quality.
The target at the 2 850 MW Kriel station is a 25% EAF improvement but addressing 700 MW of partial load losses relating to the poor condition of the cooling towers.
At Majuba, which could produce up to 3 822 MW, a 12% EAF improvement is being targeted through addressing the 1 200 MW of partial load loss associated with its bag filters, while another 25% improvement is being targeted at the 3 840 MW Kendal station, which has problems ranging from ash handling through to its air heaters.
Some of the individual experts, Ramokgopa reports, have worked for Eskom previously, while others have been drawn in from other private companies and "come highly recommended".
"These are people who have raised their hands and we are very happy with their credentials," he adds, noting that they have also been deployed to certain stations based on their specialist knowledge of the technical problem that requires fixing.
Through the Generation Recovery Plan, Eskom is aiming to increase its fleet-wide EAF to 65% by the end of March 2024, despite having fallen short of the 60% target set for the end of March this year.
By that date, the EAF was 56% and it has since deteriorated further to 52% during the period to the middle of May.
Ramokgopa also reports that the private sector is providing technical support in a bid to further optimise the diesel logistics supply chain to the Ankerlig open-cycle gas turbine (OCGT) power station, in the Western Cape, which is supplied by road tanker.
Ahead of winter, Eskom indicated that it planned to increase the load factor of the OCGT plants to above 20% to help reduce the intensity of loadshedding during the high-demand months of June, July and August.
Through tariff increases and the debt relief package, Eskom has R30-billion available for diesel, R20-billion of which would be spent to operate its own OCGT plants at Ankerlig and Gourikwa, with another R10-billion available to buy electricity from the private OCGT plants.
While Gourikwa is supplied through a pipeline, for Ankerlig to operate at such high load factors requires on ongoing delivery by hundreds of trucks daily, with on-site storage for 17-million litres and off-site storage of 40-million litres also imposing logistical limitations.
"[Eskom] has been finding it difficult to accommodate these additional trucks, so we have sent in some experts, who are very knowledgeable about logistics, to outline what might be possible," Ramokgopa says.
Should the supply chain be relieved to the point where the OCGT plants could operate at even higher load factors, and doing so would help reduce loadshedding, the Minister said additional funding beyond the R30-billion earmarked might be necessary.
"If we continue burning diesel at the current rate, that R30-billion might not be sufficient," he said, while stressing that modelling still had to be completed before he could provide a possible monetary value.
"If it is more, where will [the money] come from?
"It can come from one of two places: it could come from a future tariff increase, or it can come directly from the fiscus," he said, adding that the affordability argument would be based on the cost of burning additional diesel relative to the economic cost of higher stages of loadshedding.
The technical support, he confirmed, is being funded through the RMF, which was launched by Business for South Africa in March in response to a request from President Cyril Ramaphosa for the business to help capacitate the National Energy Crisis Committee (Necom).
RMF funding is also being used to support Necom in establishing an Energy One-Stop Shop, to facilitate the accelerated processing of the approvals, permits and licences required for new generation to be added to the grid.
Note: This story initially stated that the teams had been deployed on June 5 as communicated by the Minister on June 2, but Engineering News later learned that the terms of reference had not been finalised in time and that the deployment was likely to begin later.