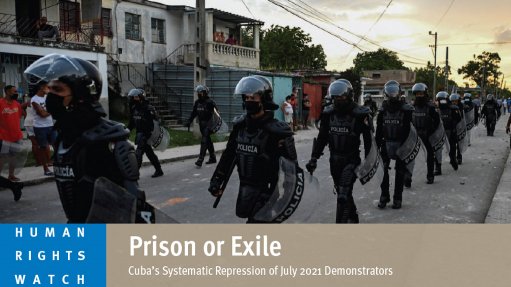 On July 11, 2021, thousands of Cubans took to the streets in the largest nationwide demonstrations against the government since the 1959 Cuban revolution. These peaceful protests were a response to longstanding restrictions on rights, food and medicine scarcity, and the government's response to the Covid-19 pandemic. Many protesters chanted "liberty!" or "motherland and life," referencing a Cuban song that repurposes the government's old slogan, "motherland or death" (patria o muerte), and criticizes repression in the country.
The government replied to Cubans' exercise of their rights to expression and assembly with brutal, systematic repression and censorship.
Shortly after the protests began, President Miguel Díaz-Canel urged government supporters and security forces to respond to the protests with force. "We call on all revolutionaries to go to the streets to defend the revolution," he said. "The order to fight has been given."
One protester, Diubis Laurencio Tejeda, a 36-year-old singer, died, seemingly at the hands of the police. Cuban rights groups report that over 1 400 people were detained, more than 700 of whom remained behind bars as of July 2022. Cuban courts have confirmed the convictions against more than 380 protesters and bystanders, including several children. Several organizations reported countrywide internet outages on July 11, followed by erratic connectivity, including restrictions on social media and messaging platforms.
This report documents a wide range of human rights violations against well-known government critics and ordinary citizens, including harassment, arbitrary detention, abuse-ridden prosecutions, beatings, and other cases of ill-treatment that in some cases constitute torture.
Human Rights Watch found that rights violations committed in the context of the protests followed patterns that strongly suggest the existence of a plan to prevent people from protesting, punish those who did, and instill fear to prevent massive anti-government demonstrations from taking place again. We found a pattern of abuse in over 155 cases documented during our year-long reporting on the repression against July 2021 protesters in Cuba, including the 14 cases described in detail in this report.
Since July 2021, Human Rights Watch interviewed more than 170 people in Cuba to assess what happened to protestors and government critics on July 11, 2021 and since. Interviewees included victims of abuse, their relatives and lawyers, human rights defenders, and journalists. Whenever possible, Human Rights Watch also reviewed case files, sentences passed on protesters, press reports, and publications by Cuban rights groups. We also verified photographs and videos sent directly to researchers and found on social media platforms. Members of the Independent Forensic Expert Group (IFEG) of the International Rehabilitation Council for Torture Victims (IRCT), an international group of prominent forensic experts, provided expert opinion on some evidence of abuses.
Report by the Human Rights Watch