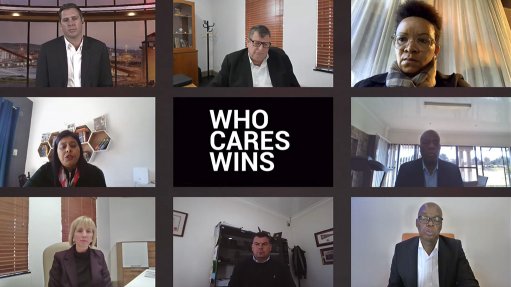 From top left clockwise, Harmony's Jared Coetzer, Peter Steenkamp, Boipelo Lekubo, Anton Buthelezi, Mashego Mashego, Beyers Nel, Marian van der Walt and Melanie Naidoo-Vermaak, during virtual ESG Day event.
Photo by: Creamer Media
JOHANNESBURG (miningweekly.com) – Harmony Gold sustainable development executive Melanie Naidoo-Vermaak on Tuesday described the decision of President Cyril Ramaphosa to lift the licence-exemption cap on own or embedded renewable energy plants from 1 MW to 100 MW as "a very welcome opportunity" for the South African mining industry.
In Papua New Guinea, 69% of Harmony's Hidden Valley operation is powered by hydropower, while in South Africa it has "an ambitious pipeline" of renewables projects at various stages of development, in addition to the long-awaited 30 MW solar project in the Free State. (Also watch attached Creamer Media video.)
The 46 000-employee Harmony, headed by CEO Peter Steenkamp, produces 1.6-million ounces of gold a year from nine underground mines, one opencast mine and several surface operations in South Africa, as well as operations in Papua New Guinea.
Speaking during Harmony's spectacular presentation on environment, social and governance (ESG), Naidoo-Vermaak said the reform would allow Harmony to accelerate ramp-up of the gold mining company's renewable energy projects and also allow it to look at regional energy opportunities, as opposed to very localised mine-based renewable options.
SOLAR POWER PLANS
Mining Weekly can report that Harmony embarked on a renewable energy journey in 2017 when a decision was taken to construct three 10 MW solar plants in the Free State.
"This will be rolled out in three phases and we are waiting for our licences to be approved. Phase 1 construction is expected to commence this year. There is also the potential to augment supply with some wind power, provided we're able to wheel. Our aggressive renewables programme will be supplemented by pipelines of energy efficiency projects.
"I do think that within the next five to six years, at least by 2030, we hope to have less than 50% of our energy needs coming from our fossil base and we would want to have a very strong portfolio of renewable mix within our business," said Naidoo-Vermaak.
IMPACT OF CARBON PRICING
The introduction of carbon tax regulations in South Africa is set to have significant cost impacts in the range of R70-million to R80-million by 2023. It is for this reason that Harmony is implementing the various renewable energy and efficiency programmes.
"If we do not act swiftly, we could see a potential impact of between R250-million to R350-million by 2030," she added.
WELCOME CHANGE
Regarding President Ramaphosa's reform, Naidoo-Vermaak reiterated. "It's certainly a welcome change in the legislative framework."
In response to SGB Securities mining analyst Adrian Hammond, Naidoo-Vermaak said the initial 30 MW would not have an impact on Harmony's balance sheet as the company has structured it as a power purchase from an independent power producer.
"But we do have ambitions to grow our renewable portfolio and some of those will very likely be funded internally by Harmony," Naidoo-Vermaak said.
Earlier, Harmony investor relations head Jared Coetzer, who moderated the virtual event, had drawn attention to South Africa's heavy reliance on fossil-fuel-based electricity from State utility Eskom.
"We are working on diversifying our energy mix to support our drive towards carbon neutrality. While our priority focus in the short to medium term is certainly on how to continue using resources in a responsible manner, and reducing our carbon footprint, looking further into the future, the more serious question is 'what impacts will climate change have on our business'," said Naidoo-Vermaak.
HARMONY ENGAGING WITH GOVERNMENT
Harmony's energy efficiency and climate change policy guidelines set out to: improve energy efficiency, reduce consumption, optimise capital investment in energy efficiency projects to reduce environmental effects and greenhouse gas (GHG) emissions, conserve natural resources and reduce the company's carbon footprint.
As part of its sustainable development strategy, the company regards it as being imperative to enhance its understanding of the sources, scope and extent of GHG emissions associated with its operations.
"We are optimising our energy and carbon resource efficiency and identifying opportunities to improve our energy mix, whilst progressing energy management systems to support our operations.
"Harmony promotes the efficient use of renewable and non-renewable carbon sources while technological advancement and technical advancement and innovation will further assist in the reduction of emissions.
"We encourage all our employees, suppliers and contractors to conserve energy through campaigns and stakeholder participation. We are also engaging with the government in the development of policies and strategies to address and promote energy efficiency and greenhouse gas reduction," Naidoo-Vermaak told Harmony's ESG Day event.
These strategies, combined with the company's integrated risk-based approach towards climate change, are said to have resulted in significant progress towards emission lowering, energy management and water usage.
Innovative climate adaptation programmes that are helping the company transition towards a low-carbon economy include a biogas energy project and various agricultural projects.
"We're also very aware of the importance of copper as a new energy metal, which is why we have positioned ourselves to take advantage of this global trend and we remain committed to our Wafi-Golpu project in Papua New Guinea. This tier 1 copper/gold asset will enable us to supply the low-carbon market and position Harmony as an emerging market mining specialist," she said.
EMISSIONS MANAGEMENT
Harmony is a significant emissions emitter owing to its mines being mainly deep-level energy-intensive underground operations.
Apart from the direct impact of rising electricity costs, as well as carbon pricing impacting its margins, its climate change risks extend to future operating costs, infrastructure requirements and the health of employees and communities.
A threefold approach is thus being applied to reducing its carbon footprint. Firstly, reducing GHG emissions by reducing consumption through real-time monitoring, simulation through digital twinning, equipment condition monitoring and data analytics. Secondly, diversifying the energy mix with solar a big consideration in South Africa. Thirdly, the company aims to diversify its portfolio further by growing its more energy-efficient surface sources, as achieved with the acquisition of Mine Waste Solutions and Hidden Valley. The acquisition of Mponeng and related assets has also had a positive impact on the group's climate change performance. While Mponeng is a deep-level mine, Mine Waste Solutions is a high-volume surface tailings retreatment operation that is less energy intensive.
ELECTRICITY INTENSITY REDUCTION
Since 2009, Harmony has reduced its kilowatts per tonne treated through energy savings and increasing the volume of tonnes treated on the back of recent acquisitions and sizeable surface-source business.
To date, the company has initiated more than 200 energy efficiency initiatives, which have yielded savings estimated at R1-billion.
GOVERNANCE
Harmony group company secretary Shela Mohatla defined governance as being the exercise of ethical and effective leadership towards the achievement of ethical culture and responsible corporate citizenship, good performance and value creation, effective control and legitimacy.
"Harmony's board supports and oversees the company's short- and long-term strategy, with a key focus on environmental and social impacts, such as assessing management's approach to ESG matters against financial and operational performance, assessing regulatory compliance, providing greater disclosures to promote transparency, assessing the company's overall risk appetite and framework, thereby by understanding the management risks related to ESG.
"We have identified five material issues based on the nature of our business. The first is ensuring employees' safety and health, the prevention of fatalities and workplace injuries. The second is maintaining our social licence to operate. The third is responsible environmental stewardship, a non-negotiable. The fourth is instilling an empowered workforce - also crucial. The fifth is navigating political and regulatory uncertainty," Mohatla said.
"Climate change has been a very prominent issue on the committee's agenda and as such we have been embedding commitments to climate change mitigation and adaptation and to business strategy and decision-making," she added.