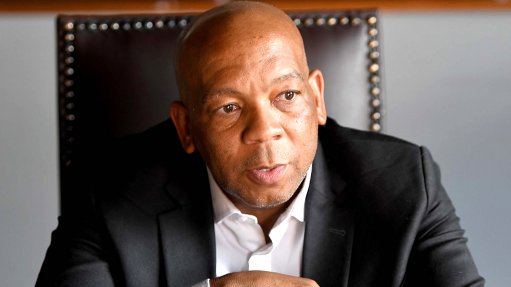 Electricity Minister Kgosientsho Ramokgopa
The prospect of South Africa procuring electricity from powerships docked either in South Africa or in a neighbouring country has increased, with the Eskom board having approved three emergency procurement programmes that now only require the concurrence of the regulator before proceeding.
The National Energy Regulator of South Africa (Nersa) will host hearings on May 19 into three determinations for emergency power, namely: the 2 000 MW Load Shedding Reduction Programme (LSRP); a 1 000 MW scheme to secure additional cross-border electricity; and an 800 MW Emergency Generation Procurement Programme.
Electricity Minister Kgosientsho Ramokgopa confirmed that the procurement programmes would be launched in June once Nersa's concurrence had been secured and would be for solutions that could begin injecting power into South Africa's energy-starved grid within six months after financial close.
He stressed, however, that power purchase agreements would be for no longer than five years, signalling a departure from the 20-year timeframe associated with the largely unsuccessful risk mitigation procurement programme, which was dominated by gas-to-power bids received by Karpowership of Türkiye.
The projects have faced serious legal and environmental objections and have, thus, failed to advance to financial close.
Nevertheless, Karpowership issued a statement on May 4 indicating that South Africa remained central to its operations and that it intended pressing ahead with moves to secure environmental authorizations in both Richards Bay and Saldanha Bay.
President Cyril Ramaphosa also made reference to powerships during an appearance in Parliament on May 11, indicating that government had intended buying electricity from emergency sources, including from ships that could generate electricity, but had been "stopped by interventions completely outside of government's hands".
"And I still say today, what South Africa needs right now is emergency energy," Ramaphosa said, noting that other countries had used powerships to address their electricity problems.
"I do believe that is the way to go right now, to add those megawatts that we don't have, while we wait for the construction of the other renewable-energy sources," the President said.
National Energy Crisis Committee secretariat head Rudi Dicks confirmed that the Eskom board had approved the emergency programmes, but insisted that any procurement would be "technology agnostic" in nature.
Dicks said that the President had been clear on the need to secure emergency power and to speed up the procurement of technologies that could help in the near term and powerships could be one of those technologies.
"The principle of the LSRP is to enter an arrangement with those who can provide emergency power and secure this over the next five years, so of course powerships – and I'm not going to make reference specifically to Karpowership – would obviously be part of that particular mix."
He stressed that Eskom would need to assess the bids on a case-by-case basis, and would base its procurement decision using both the cost of the solution and how quickly the additional energy could be integrated into the grid.
The emergency procurement would not be concluded before the key high-demand winter months of June and July, however. For this period, government and Eskom were pinning their hopes on a recovery in the performance of the breakdown-prone coal fleet, on burning more diesel in the open-cycle gas turbines and on some demand-side relief.
Nevertheless, there were still fears that loadshedding could breach the Stage 6 level, which was already being implemented regularly and was leaving households and businesses without grid power for more than ten hours a day on some days.