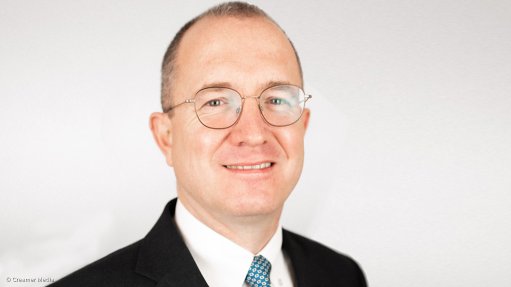 Heraeus Precious Metals Executive Vice-President New Business Philipp Walter.
JOHANNESBURG (miningweekly.com) – Platinum group metals- (PGM-) based proton exchange membrane (PEM) electrolysis is a competitive technology in upscale mode and is making its mark in electrolysis for hydrogen production as well as in the use of hydrogen for vehicle mobility.
PEM electrolysers have distinct advantages when dealing with renewable energy sources because they can react more dynamically and more quickly to certain on-off scenarios.
Significant thrifting has been achieved in the amount of iridium required by PEM electrolysers, which split water into hydrogen and oxygen, and thrifted catalysts not only contain considerably less iridium but also provide better performance at lower cost.
Amid these advances, which are being further boosted by the prospect of lower-priced ruthenium partially substituting scarce iridium – as well as collaborated iridium recycling strategies – PEM will make significant headway into electrolysis for hydrogen production, as well as into fuel cell technology for vehicle mobility.
These insights have been provided by Heraeus Precious Metals executive VP: new business Philipp Walter, who spoke to Mining Weekly in a Zoom online interview. (Also watch attached Creamer Media video.)
Scarce iridium, as one of the six elements of PGMs, plays a key role as a catalyst on the anode side of PEM electrolysers and the intense research into partially substituting it with fellow PGM metal ruthenium is being undertaken by Heraeus in partnership with PGM mining and recycling company Sibanye-Stillwater.
If left to conventional catalysts, the global availability of the mainly South African-supplied iridium would have been insufficient to meet the targets of the European Union Commission, which has a strategy that drives demand.
But Walter was upbeat: "There's really a great reduction of iridium in PEM electrolysers ongoing right now."
He reports average thrifting of iridium to between 0.3 g/kW and 0.4 g/kW compared with 1 g/kW a couple of years ago and is positive on the outlook for greater thrifting of 0.08 g/kW to 0.1 g/kW with the next generation catalysts from Heraeus, a broadly diversified and globally leading family-owned technology company, headquartered in Hanau, Germany. Heraeus is well known in South Africa for its PGMs refinery in Gqeberha as well as its long-standing close association with Northam Platinum.
Promising iridium/ruthenium mixed oxides under development as part of the Heraeus/Sibanye project are pointing to a level below 0.08 g/kW.
Nevertheless, iridium recycling remains pivotal, with salvaging strategies being fine-tuned in collaboration with industry stakeholders.
Mining Weekly: Just how much iridium is available for green hydrogen, generated by means of PEM electrolysis?
Walter: We are talking about generally eight to nine metric tonnes of iridium being mined every year. However, this iridium is not only used for PEM electrolysis. Actually, the majority is currently used for other applications such as spark plugs, crucibles, catalysts for chemical processes and acetic acid production. Based on our own calculations, and of course, these are more assumptions and conclusions from a certain understanding of the market, we think that a maximum of around 1.5 metric tonnes per annum (1.5 mt/a) of iridium to 2 mt/a of iridium from primary supply is available per year for PEM electrolysers for the high production of hydrogen.
What needs to happen to ensure the growth of PEM electrolysis?
Iridium is pivotal for every PEM electrolyser. To replace iridium is not easy. In academia, there are a lot of approaches on the way, but for the time being, iridium is set for PEM electrolysis. But the use of iridium in PEM electrolysers is not optimised yet and there's a lot going on. Currently, we are talking about around 0.4 g/kW of iridium to allow the iridium demand to be sufficient to accompany the hyperscaling of hydrogen. For the hyperscaling of PEM electrolysis, thrifting needs to happen, not only on the catalyst side, but also on the overall system side, and we see a lot of signs that there's really a great reduction of iridium in PEM electrolysers ongoing right now.
What about partial substitution of iridium with other precious metals such as ruthenium? Is this promising?
This is a holy grail, and there's a lot going on to substitute iridium, first of all through a respective catalyst concept – and I mentioned 0.4 g/kW to 0.3 g/kW are used currently when using iridium black as iridium dioxide as a catalyst. With Heraeus' new developments, we're already down at 0.08 g/kW to 0.1 g/kW, and now talking about ruthenium and mixed oxide ­– that's the concept we're following and we have some promising signs – this actually could end up in a significantly reduced use of iridium. It's still under development, and loadings below 0.08 g/kW, I think, will be doable. Of course, it won't be there tomorrow, but maybe in the next few years.
What will that mean for PEM electrolysis growth?
There are two main topics, I think, for the PEM electrolysis, one of thrifting of iridium and the other of partially replacing iridium with ruthenium in the catalyst. Ruthenium is cheaper than iridium, so you have a cost advantage by changing from a pure iridium to an iridium/ruthenium mixed oxide catalyst.
PREPARING FOR PFAS PUBLIC CONSULTATION
In January, Denmark, Germany, Netherlands, Norway and Sweden submitted a regulatory proposal – the Restriction Dossier on per- and polyfluorinated alkyl substances (PFAS) – to limit the manufacture, placing on the market and use of all PFAS, in the European Union to the European Chemicals Agency.
Then in February, the European Chemicals Agency published a preliminary version of this Restriction Dossier, which outlines the scope and structure of the proposed restriction.
The dossier provides for a comprehensive ban of the entire substance class of PFAS with an 18-month transition phase after the regulation's entry into force. This includes a ban on fluoropolymers such as polytetrafluoroethylene, or PTFE.
It also proposes derogations for individual applications of six to 12 years in sectors essential for society and for which alternatives do not yet exist.
This comes amid fluoropolymers being vital for achieving the European Green Deal, REPowerEU, the Sustainable and Smart Mobility Strategy, Fit-for-55, the European Industrial Strategy, the European Chips Act and other key European policy objectives and strategies – particularly those aiming for the sustainable transition of the EU economy.
Regarding a possible PFAS ban in Europe, what is the potential impact of this on the advance of the hydrogen economy?
That's a good question. So, Heraeus is not producing PFAS, which is a group of per fluorinated hydrocarbons and this also includes fluoropolymers. In total, we're talking about 14 000 substances, and probably some of them are toxic, and you don't want to have them, but a lot of them, if not the majority, are less critical, simply because they're not toxic. For example, talking about Teflon and fluoropolymers, which are also used in form of PFSA in PEM electrolysers. Fluoropolymers are polymeric substances of low if not no concern, to the best of our understanding. A potential ban would have an impact on the hydrogen economy in total. However, I think politics as well as all the industry associations are clarifying the difference between PFAS substances you don't want and those you want, like the fluoropolymers.
In what part of the PEM electrolyser does PFAS play a role?
PFAS always has a very negative meaning and chemically, it's a huge group of substances. There are PFAS, which I would refer to as low molecular weight fluoropolymers, used as membrane materials, on to which the precious metals are coated. Fluoropolymers are pivotal for the hydrogen economy in all kinds of applications, in all kinds of electrolysers, or fuel cells, and banning these fluoropolymers would have a very strong impact, not only on the hydrogen economy but on total daily life, so currently there's a lot of debate within politics, within the governments, on how to come to a differentiated view on this group of PFAS molecules.
Getting back to PEM electrolysis, why should the world choose PEM electrolysers to produce hydrogen?
PEM electrolysis has distinct advantages when dealing with renewable energy. In total, there are maybe four dominant technologies. You have the alkaline electrolysis, which is a very mature technology. You have PEM electrolysis, which is in the process of scaling up and has advantages when it comes to renewable energy sources because it can react more dynamically, more quickly, to certain on-off scenarios. You have the high-temperature electrolysis, where you need certain processing to make it economically viable. It's more of a niche application in our opinion, and last but not least you have the anion exchange membrane electrolysis, which is trying to combine advantages of the alkaline electrolysis and the advantages of the PEM electrolysis. This technology is, however, even newer, and has not been demonstrated to be viable at the gigawatt scale. Maybe, in the future, this will also come into play, but for the time being, we end up with two main technologies, which are the alkaline electrolysis and the PEM electrolysis.
Does it look like PEM electrolysis is going to be the electrolysis of choice?
Based on data from the Hydrogen Council, from McKinsey and from certain experts, we see an announced capacity right now for roughly 170 gW electrolyser capacity in total globally, and somewhere between 30% and 40% is currently assumed to be a PEM electrolysis until 2030.
Are people going for hydrogen for mobility, or are they doing so more for big industries and hard-to-abate sectors?
In my view, hydrogen mobility is also on its way, targeting, first of all, heavy-duty applications where battery electric vehicles are less of an option. When a certain level of infrastructure is established and when a certain economy of scale has been reached, the market will also go for fuel cells. I think there will also be a certain share in the passenger car arena, but it will take a while until it is competitive with battery electric vehicles cost-wise. We see it already now in the heavy-duty arena in China as well as other parts of the world, and to give you an example, in Germany, I think BMW is bringing in an X5 series into the market with a few fuel cell stacks.
What, in your view, should be the biggest takeaway from this interview?
I think PEM electrolysis with PGMs is a competitive technology, which will make its way in electrolysis for hydrogen production as well as in mobility.