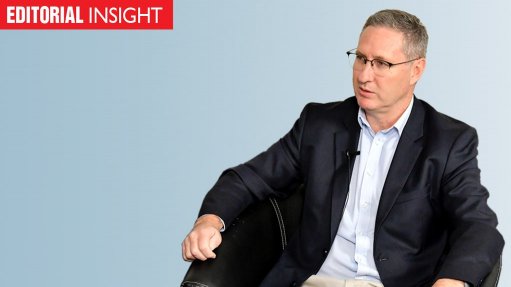 Mining personality Bernard Swanepoel's disarming sense of humour enables him to speak many a true word in jest without triggering offence.
But he wasn't joking when, in opening a recent webinar on the hydrogen economy, he indicated that he took pronouncements made inside African National Congress (ANC) structures more seriously than those made on official government platforms.
By that worldly yardstick, the speech delivered by ANC president Cyril Ramaphosa following the National Executive Committee's recent lekgotla is extremely positive for both Eskom's unfolding just-transition transaction and its CEO Andre de Ruyter.
The lekgotla, Ramaphosa reported, had welcomed the detailed planning Eskom had done on the transaction, through which the utility aims to secure concessional climate finance to facilitate both the repurposing and repowering of decommissioned power stations and to support workers, firms and communities that will be negatively affected by their closure.
De Ruyter has made the just energy transition and the associated transaction, which is yet to be secured, the defining theme of his Eskom tenure, notwithstanding some stiff internal and external opposition.
Internal opposition has, at times, spilled over into ugly and unsubstantiated accusations of racism, while ANC national chairperson Gwede Mantashe, who is also Ramaphosa's Mineral Resources and Energy Minister, has been a key external adversary.
Mantashe told De Ruyter to "stay in his lane" when the Eskom CEO endorsed calls by business and labour for a lifting of the licence-exemption cap on embedded generators to beyond the 10 MW initially proposed, so as to help close a 5 000 MW supply gap that was at the root of ongoing load-shedding. He also warned that South Africa would "commit economic suicide" if it shut its coal-fired stations, despite Eskom's moves to do just that at a pace largely in line with government's own electricity plan.
Together with the raising of the licence-exemption threshold to 100 MW, the Minister's recent confirmation that the next set of renewable preferred bidders will be named in October and that a total of 6 800 MW of renewables will be procured before the end of March may be indications that Mantashe is softening.
Nevertheless, the mixed signals, along with distracting calls for clean coal and modular nuclear in a context where no commercial solutions exist for either, have caused uncertainty.
For this reason, the ANC post-lekgotla statement could be prescient, as Ramaphosa made absolutely no reference to either clean coal, or nuclear. Instead, he argued that transitioning to a low-carbon economy presented opportunities in renewable energy, grid construction, manufacturing of renewable components, battery storage, green vehicles, green hydrogen and critical commodities such as platinum group metals.
This statement gels with De Ruyter's own vision for using the transition to reverse the "vicious cycle of deindustrialisation and unemployment" and trigger a "virtuous cycle of local demand for local goods to create investment and jobs".
If Swanepoel's rule-of-thumb on political statements is indeed correct, then perhaps the planets are finally aligning for Eskom and its leadership team.