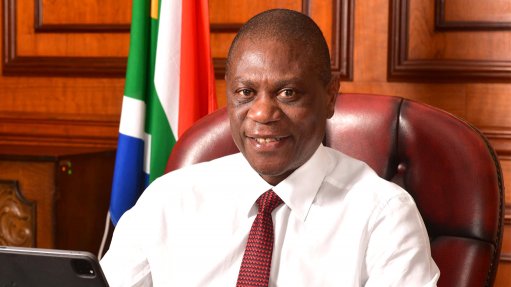 Deputy President Paul Mashatile
When the African National Congress (ANC) believes it is correct, it won't hesitate to use its majority in Parliament to push through decisions.
This was Deputy President Paul Mashatile's response to questions about President Cyril Ramaphosa's Phala Phala farm dealings during his maiden question and answer session in the National Assembly (NA) on Thursday.
Mashatile's comments come a day after the ANC used its majority in the NA to thwart attempts for an ad-hoc committee to be established to investigate the Phala Phala matter.
Posing her question to Mashatile, the Democratic Alliance's (DA's) chief whip, Siviwe Gwarube, said: "We called for an ad-hoc committee. All these things were done, but you and your party voted this down and this has rendered Parliament toothless. No one is interfering with any work, courts have held that Parliament does not have to wait for other agencies to do their work."
In response, Mashatile said that, in a democratic dispensation, the majority rules.
"I think that is how democracy works. The majority must have its way. No, democracy works that way. Maybe when you have an opportunity to govern you will understand. That is what you do in the Western Cape.
"I am not blaming you because at some point you must take a decision against us in opposition when you believe your cause is correct," he said.
"When the ANC believes its course is correct, it will use its majority to push those decisions and, by the way, winning positions and decisions is something you win there out in elections. When you campaign and you win out there, you already win here. If you lose out there, you lose here.
"I am happy if you vote against us in the Western Cape because we are the minority. There is nothing I can do about it, nothing wrong in that. So there is nothing wrong here [when we do it]. Let's allow the National Assembly to be able to take decisions in a democratic way. Democracy means majority rules. That's it," he said.
On Wednesday, the DA motion to establish a committee to probe Phala Phala was defeated in the National Assembly.
Altogether, 204 voted against the motion to establish the committee, 135 voted in favour of the motion, and there were no abstentions.
Earlier this month, the Office of the Public Protector, in an interim report, cleared Ramaphosa of wrongdoing in the Phala Phala scandal, finding that he had fulfilled his obligation to declare his interests in the farm and had reported the matter to the police.
The African Transformation Movement and DA challenged the Public Protector's investigation and expressed concern with the report, which investigated the robbery and theft of millions of US dollars from Ramaphosa's Phala Phala game farm in Limpopo in February 2020.
While the report by the acting Public Protector, advocate Kholeka Gcaleka, cleared Ramaphosa, it raised serious questions for the head of the Presidential Protection Service, Major-General Wally Rhoode.
Gcaleka found Rhoode abused his position in launching an off-the-books investigation, which utilised police resources.