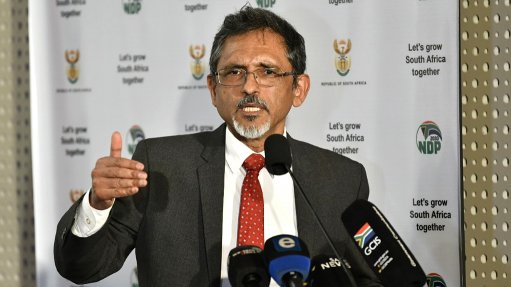 Trade, Industry and Competition Minister Ebrahim Patel
Photo by: Creamer Media's Donna Slater
South Africa's trade minister has been appointed as a lawmaker, giving President Cyril Ramaphosa more flexibility when it comes to revamping his executive.
Under South African law, the president can name two people who aren't members of parliament to his cabinet. Those positions were occupied by Finance Minister Enoch Godongwana, who was made a lawmaker last week, and Trade, Industry and Competition Minister Ebrahim Patel, who was sworn in on Monday.
Pemmy Majodina, the governing African National Congress's chief whip in the legislature, confirmed Patel's swearing-in. The changes suggest Ramaphosa will retain both Godongwana and Patel as ministers when he announces changes to his cabinet at 7 p.m., and assign one or two posts to people who aren't members of the National Assembly.
Among the positions Ramaphosa has to fill is that of deputy president, after David Mabuza resigned last week. That role is traditionally given to the ANC's deputy leader, a post occupied by Paul Mashatile.
The president is also expected to name a new electricity minister, who will be tasked with overseeing the government's response to an energy crisis that's led to record blackouts. Among those considered for the position are Kgosientsho Ramokgopa, who heads up the infrastructure department in the presidency and isn't in parliament.
Ramaphosa also needs to fill a vacancy in the public service and administration ministry, and name a replacement for Transport Minister Fikile Mbalula, who is now the ANC's secretary-general.