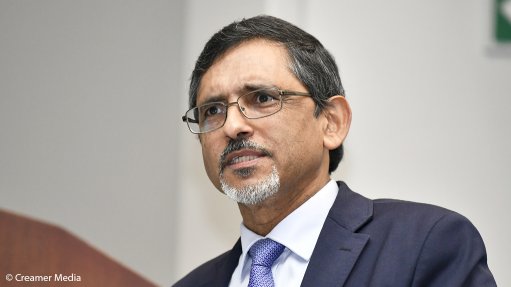 Trade, Competition and Industry Minister Ebrahim Patel
Photo by: Creamer Media's Donna Slater
Trade, Competition and Industry Minister Ebrahim Patel has again expressed optimism that South Africa will be able to convince the US Congress to extend South Africa's designation as an African Growth and Opportunity Act (Agoa) beneficiary beyond 2025, when the unilateral trade programme is due to expire.
South Africa's continued designation as an Agoa beneficiary has come into question in recent months, owing to diplomatic tensions over an alleged sale of arms to Russia by South Africa in December.
President Cyril Ramaphosa has appointed a three-member panel – comprising Judge PMD Mojapelo (chairperson), Advocate Leah Gcabashe SC, and Enver Surty – to probe the circumstances of the docking of the Russian cargo ship the Lady R in Simon's Town, as well as the alleged loading of cargo on to the vessel.
The panel, which was appointed on May 28, is expected to finalise its investigation within six weeks of its appointment and submit a report to the President within two weeks of concluding its work.
Responding to a question posed in Parliament on June 7 by the Democratic Alliance's Dean Macpherson, Patel reiterated that South Africa valued its trade relationship with the US, including the 18% of trade conducted under Agoa.
The balance of South Africa's trade with America gains access under the Most-Favoured Nation terms available to World Trade Organisation members.
South Africa is the continent's largest non-oil beneficiary of Agoa, exporting a wide range of products, including automobiles, mining and chemical products, as well as agricultural goods such as citrus, wine and macadamia nuts.
"We are working closely with a number of African countries to have it [Agoa] renewed and extended again," Patel said, noting that South Africa also faced difficult negotiations ahead of the previous expiry date of 2015 when the US objected to protection South Africa had extended to its poultry industry.
"As part of this effort, we have engaged across three fronts: first with members of the US administration, second with members of the US Congress and third with members of the US business community."
He indicated that he had held several meetings with US Trade Representative Katherine Tai last year, as well as with members of other departments and members of Congress.
There had been another meeting in January, which was followed up by a virtual meeting, which took place in the first week of June.
South Africa, he reported, had been nominated by other African countries to make the case for an early extension of Agoa during meetings in Washington DC in December, as well as to propose some changes to its terms.
Patel also noted that, despite heated public comment regarding the poultry issue ahead of the previous extension of Agoa in 2015, South Africa and the US "were able to find each other".
"We hope we can constructively engage the US government [again]," he said.
"Trade is a two-way story . . . [and] it's about working through those things, such as the supply of key raw materials, critical minerals and a base for American investment on the African continent.
"All of those issues, I'm sure, will be properly ventilated in the course of what I hope will be a friendly and constructive conversation with a very important trade and investment partner."