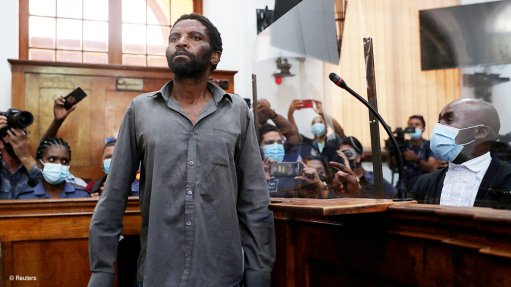 Parliament arson-accused Zandile Mafe
Photo by: Reuters
Parliament arson-accused Zandile Mafe's bail application will not be heard on Saturday as planned, his lawyer Luvuyo Godla said on Friday.
He said the magistrate did not want to risk bringing a person with Covid-19 to court, and the legal team had not been able to consult with him on the application.
National Prosecuting Authority (NPA) Western Cape spokesperson Eric Ntabazalila confirmed the postponement.
Ntabazalila added, "On Tuesday, the court was advised that Mafe contracted Covid-19 and is in isolation. Today, the State, Defence and the Acting President of the Regional Court met virtually to discuss the logistics of the bail application and the parties agreed with the defence as they are unable to consult with Mafe until he completes his isolation on 24 January 2022."
A new charge sheet has been provided to the defence and the accused now faces charges of housebreaking with intent to commit terrorism and arson, arson, terrorism, and theft.
"The changes came after advocate Mervyn Menigo, who is the leading prosecutor in the matter, had studied the docket afresh, further consulted with the investigating officer, and felt that the charges needed to be reformulated," Ntabazalila said.
On Tuesday, Mafe won round one in his bid to be out of custody while the cause of the fire is investigated.
The Western Cape High Court ordered that he be released from Valkenberg Hospital, where he was under psychiatric observation.
Mafe was released from Valkenberg Psychiatric Hospital on Wednesday following the court order, after the defence applied for a review of his referral for a 30-day mental observation.
The High Court reserved judgment in the review application.
A report submitted to the Cape Town Magistrate's Court on 11 January noted a diagnosis of paranoid schizophrenia made during Mafe's pre-appearance physical, and Magistrate Zamekile Mbalo referred him for observation.
The Western Cape High Court declared this unlawful and ordered Mafe's transfer from Valkenberg Hospital to Pollsmoor Prison.
The court heard on Tuesday that he had contracted Covid-19, and would be subject to Pollsmoor Prison's Covid-19 isolation protocols.