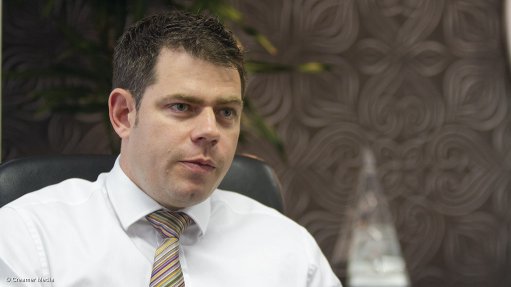 Pan African CEO Cobus Loots
Photo by: Duane Daws
JOHANNESBURG (miningweekly.com) – Precious metals and coal producer Pan African Resources on Wednesday announced higher earnings and revenues, and a record dividend pay-out of R300-million, despite lower gold production in the six months to December 31.
Earnings per share increased by 33.4% to 16.58c a share and the board approved the Elikhulu tailings retreatment project, subject to certainty on funding for the project.
The Uitkomst colliery contributed R21.3-million, or 8.5%, to group profit after tax and the PAR Gold transaction an additional 17.7% to group earnings per share.
The effective rand gold price received increased by 16.5% to R565 298/kg and by 13.2% in dollar terms to $1 257/oz, compared with $1 110/oz in the corresponding period last year.

Pan African CEO Cobus Loots said Elikhulu would provide organic production growth of about 56 000 oz/y of gold and also reduce the overall cost profile of the London Aim- and JSE-listed company's operations.
He said Elikhulu reflected the company's strategy of having long-life, low-cost high-quality production ounces, with the focus of generating attractive returns.

He added that the transactions completed in the prior financial year had positively impacted results in the current reporting period and had been extremely value accretive.
The company's immediate focus, he said, was to recommence the Evander Mines underground mining operations, following the temporary suspension of mining to refurbish critical infrastructure, and to finalise the Elikhulu funding package.

The National Union of Mineworkers (NUM) said on Wednesday that it would hold a memorial service on Thursday for a mineworker who was fatally injured on February 15 at Pan African's Evander gold mine, in Mpumalanga.

NUM also expressed concern that two of its members were given a final warning for raising health and safety concerns at Evander and the union is demanding that these be withdrawn.
The share price of Pan African Resources fell on Monday after the company issued a stock exchange news service notice announcing a 55-day suspension of mining following the death of engineering assistant Velile Chaplin Kapa, 54, who sustained a fatal head injury after a section of the main shaft pump column failed while he was working in the shaft bottom area.
Pan African has reported that studies recently identified critical infrastructure issues requiring remedial action, to ensure safe and sustainable operation of Evander 7 and 8 shafts.