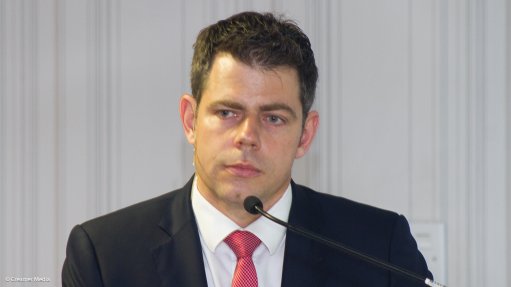 Pan African Resources CEO Cobus Loots
Photo by: Duane Daws
JOHANNESBURG (miningweekly.com) – The CEO of the London Aim- and Johannesburg-listed precious metals and coal mining company Pan African Resources on Wednesday accused the National Union of Mineworkers (NUM) of making statements that were "blatantly false" on safety practice at the Evander gold mine in Mpumalanga.
"I will not say it in another way," said Cobus Loots at the company's presentation of interim results, which saw Pan African deliver higher earnings, better revenues and a record dividend pay-out of R300-million, despite lower gold production in the six months to December 31. (Also watch attached Creamer Media video).
Loots was responding to a question put by Mining Weekly Online on NUM stating in a media release that it was concerned and disturbed by two of its members being given a final warning for raising health and safety concerns at the Evander mine, where engineering assistant Velile Chaplin Kapa, 54, died on February 15 after sustaining a fatal head injury when a section of the main shaft pump column failed while he was working in the 7 shaft bottom area.
At the time, Kapa had been preparing a bag of gold-bearing material for hoisting to surface.
During the presentation where earnings per share were announced to have increased by 33.4% to 16.58c a share, as was the board's approval of the Elikhulu tailings retreatment project that is set to be a game-changer for Evander, Loots devoted a large portion of the presentation to safety at Evander. The mine is being closed for 55 days while R41.5-million is spent on repairing its underground infrastructure, to ensure the safe and sustainable operation of 7 and 8 shafts.
Loots was unequivocal about the issue raised by NUM not relating to safety concerns but rather to inappropriate behaviour that had led to a union member being subjected to a disciplinary process.
"All of that is well documented and we're happy to make those records available," Loots told Mining Weekly Online.
He reiterated that all group employees were empowered to issue internal stop notices, similar to the Section 55 notices of the Department of Mineral Resources, in any instance where working conditions were deemed to be unsafe.
"Again, our books are open as far these internal staff notices are concerned," he said, adding that on the Thursday of the week before the fatal accident, he himself was at the shaft bottom and did not feel at all unsafe.
"It's a tragic accident. We hope and pray that it will not be repeated and we really feel for the family and employees. But again, Pan African's philosophy is not to operate unsafely and we take exception when people accuse us doing so," said Loots.

NUM alleged, however, that final warnings were issued to the chairperson of the NUM branch and a member of the shaft committee prior to the fatal injury.

"Our members were charged for raising health and safety concerns. This mine is putting profits first and it does not care about health and safety of our members. Our members have now been vindicated and we urge the mine management to create a safe working environment for the workers. The management must remove those final warnings from their files," said NUM health and safety chairperson Peter Bailey in the release.
NUM intends holding a memorial service for the deceased engineering assistant at Evander on Thursday.
Loots outlined to investors, analysts and journalists that Pan African had improved on most safety metrics in the six months to December 31, which was even more pronounced over a three- to five-year period.
The company's Phoenix Platinum operation had not reported a single lost-time nor reportable injury since commencing production more than five years ago, which reflected the safety difference between surface and underground operations and why the company was so keen on boosting its surface footprint.
After an increase in underground accident rates two months ago, Loots tasked senior management at Evander to engage with each and every employee, individually, in order to ensure that the entire employee complement understood the importance of working safely.
He pointed out that the company tracked and investigated all internal safety stop notices and then went on to make this unprecedented commitment: "My commitment to you today is that I will personally meet and engage with each group employee in terms of safety before we present our final year-end results," Loots vowed.
As a whole, Pan African employs 4 000 people, including contractors, with 2 800 employees and another 400 to 500 contractors located at Evander.
In coal, Pan African reported that its Uitkomst Colliery contributed R21.3-million, or 8.5%, to group after-tax profit and the PAR Gold transaction an additional 17.7% to group earnings per share.
The effective rand gold price received increased by 16.5% to R565 298/kg and by 13.2% in dollar terms to $1 257/oz, compared with $1 110/oz in the corresponding period last year.

The promising R1.7-billion Elikhulu – for which R700-million is being finalised and may be raised as shareholder equity – would provide organic production growth of about 56 000 oz/y of gold and also reduce the overall cost profile of the company's operations, including Evander, where effort is being made to drop costs to $1 100/oz, compared with the stunningly low $150/oz costs at Pan African's Barberton Tailings Retreatment Plant, which again "shot the lights out" in the six months to December 31.
Elikhulu, which may do the same, reflects the company's strategy of having long-life, low-cost quality production ounces, with the focus of generating attractive returns.

Its immediate focus is to resume mining at Evander, following the temporary suspension of mining to refurbish critical infrastructure.
Also watch the Creamer Media video that is attached to this report.