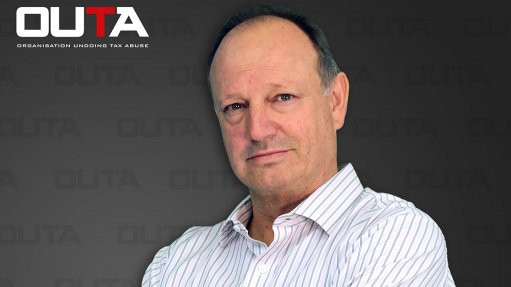 OUTA CEO Wayne Duvenage
Organisation Undoing Tax Abuse (Outa) CEO Wayne Duvenage has said the lack of transparency from government on the cargo of Russian ship Lady R, which was spotted in Cape Town, in December last year creates serious problems for the country.
The US has claimed that South Africa provided Russia with weapons and ammunition when the Russian vessel docked at the Simon's Town naval base in Cape Town last year.
Government has hit back at the US for undermining "the spirit of cooperation and partnership".
The Presidency has announced an inquiry into the matter, which will be headed by a retired judge.
Duvenage dismissed the need for an inquiry and called for "absolute transparency" from government to ease tensions rising between South Africa and its biggest trading partners and save the country from "any further embarrassment" and possible negative trade impacts that would devastate an already ailing economy.
There are serious concerns that South Africa could be jeopardising trade benefits under the African Growth and Opportunity Act (Agoa).
"Our government's lack of transparency on allegations of armament supplies to Russia, a country that is in a war of aggression against Ukraine, has brought South Africa very close to a chain of events that will spark significant economic hardship for our nation," said Duvehage.
He added that the lack of transparency was extremely concerning to South Africa's largest trading partners and to millions of citizens who care about South Africa's position on the Russia-Ukraine war.
"The activities currently unfolding, including the recent landing of a Russian military aircraft at the Waterkloof Air Force Base, send a clear signal that the ruling party is somehow dependent on Russian favours and is prepared to compromise the State. These issues are already having a negative impact on the current exchange rates, with the potential for significant negative economic repercussions for South Africa. What we find unacceptable is government's response to introduce an independent inquiry into whether armaments and ammunition were loaded into the Russian ship or not," said Duvenage.
Meanwhile, AfriForum CEO Kallie Kriel accused President Cyril Ramaphosa and the African National Congress government of leading South Africa to economic suicide by "now making the war in Ukraine, South Africa's war as well".
Kriel said Ramaphosa had allowed South Africa to unofficially declare war on its own economy.
"Even if weapons were not supplied, the visit by Russian ships and aircraft and the joint naval exercise, already, given the current international climate, created the conditions for South Africa to commit economic suicide. If South Africa is kicked out of the Agoa agreement, everyone in the country will be adversely affected, regardless of their position on the war in Ukraine," said Kriel.