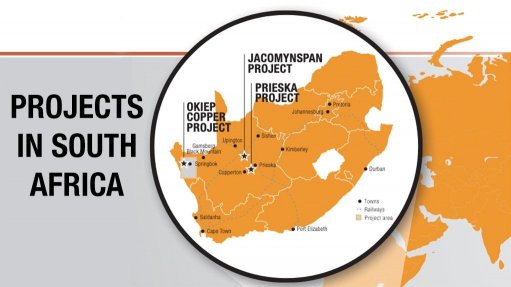 Northern Cape project outlook.
JOHANNESBURG (miningweekly.com) – Orion Minerals, the promising emerging copper/zinc miner in South Africa's prolific Northern Cape will set out to update Australia on the Prieska copper/zinc revival next week.
Errol Smart, the CEO of the Sydney- and Johannesburg-listed Orion, will carry out a roadshow Down Under on May 9.
Orion's two emerging Northern Cape production hubs – the Prieska copper/zinc mine and the Okiep copper project – are opening the way for South Africa to be a producer of future-facing 'green' metals to support the global energy transformation and to help to combat climate change.
Okiep has potential for near-term production restart and Orion also has the Jacomynspan project – a nickel, copper, cobalt, platinum group elements (PGEs), and gold pursuit with potential to produce advanced battery precursor products.
The company has received encouraging results, too, from a successful maiden drilling programme on the Koperberg-Carolusberg line of intrusives, confirming historically reported results and proving shallow mineralisation.
Six years after acquiring the Prieska copper/zinc mine in the Northern Cape, Orion is now on the cusp of becoming a base metal producer following a strategic funding package underpinned by its new strategic partner, South African mining group Clover Alloys. Interestingly, Clover Alloys is headed by South African mining stalwarts Philip Kotze and Adam Fleming, both formerly of gold exploration and mining company Wits Gold, and interestingly, Mining Weekly can report that Ian Fleming, the author of the James Bond spy novels, was Adam Fleming's father's elder brother.
The Clover advance followed key funding packages from Triple Flag Precious Metals and South Africa's State-owned Industrial Development Corporation.
In addition to Prieska, the Okiep copper project is also being developed to help the world to decarbonise by supplying it with copper.
On a fully permitted site, Orion will be getting Prieska into production very quickly, without extraneous influences of bank-enforced engineering, procurement and construction management, or EPCM, contracts.
Smart describes Clover Alloys' expertise as being invaluable in positioning Orion to become a near-term producer.
Being brought back to the fore are the Northern Cape's copper, zinc, lead, gold, silver and tungsten opportunities, with notable diggings of lithium, rare-earth elements and uranium, along with virgin deposits of nickel, copper, cobalt and PGEs being identified.
At Jacomynspan, the battery refining agreement has been signed with Stratega Metals, embracing the development of a specialist refining facility, using Stratega's licensed refining know-how. Presenting a major beneficiation value uplift is metal vapour refining technology that is used to produce battery precursor metal and nano powders used in the electronics industry.
LONG-STANDING COPPER HISTORY
The Khoi San community are believed to have discovered copper in the Cape well before its colonisation and then in 1685, a copper discovery was reportedly made by Simon van der Stel near the Northern Cape. From 1935 to 1980, the Northern Cape developed into one of the major copper producing districts in Africa and the world. However, a down-turn in the copper price had seen all activity in the district come to an end by 2005. Orion later made its appearance and last month Copper 360 listed on the AltX of the Johannesburg Stock Exchange to underpin the copper junior's current processing historical mined copper rock dumps through a process of environmental clean-up and the beneficiation of the recovered copper into copper plates, which are exported.
Copper 360 is also mining shallow copper resources working on the copper-related data gathered by mining majors that once worked the district, notably Newmont and Gold Fields. In addition, Copper 360 will soon release exploration drilling results.