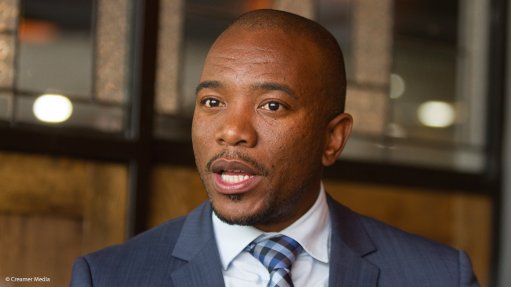 One South Africa Movement leader Mmusi Maimane
Photo by: Creamer Media
"This is a moment to reform education so all learners can get [an] equal education," said One South Africa Movement (OSAM) leader Mmusi Maimane, who has been calling for the closure of schools since they reopened for some grades on 8 June.
President Cyril Ramaphosa announced on Thursday that public schools would close for most grades from 27 July to 24 August as infections in the country increased. However, he said Grade 12 pupils would take a break for a week, from 27 to 31 July, while those in Grade 7 would stay home for two weeks and return on 10 August.
Maimane and his organisation previously took the government and the Department of Basic Education to court in a bid to have the reopening stopped but the Gauteng High Court in Pretoria dismissed the bid.
Three judges, including Judge President Dunstan Mlambo, found there was "no evidence" that Basic Education Minister Angie Motshekga and her department "took a callous approach, demonstrating a wanton disregard for the health and safety of the school community".
The former Democratic Alliance leader previously spoke to News24, saying all he called for was for schools to close during the peak wave and for the curriculum to be adjusted, and blended online learning implemented, especially for pupils in matric.
Maimane was criticised for using school reopening for politicking, but said that was nothing new to him.
He threatened to go to the highest court in his fight to have schools closed.
Welcoming Thursday night's announcement, Maimane said the country had not been able to control community transmissions as guided by World Health Organisation (WHO) regulations.
"Now we have to use this time [to] make special arrangements for matriculants, ensure additional venues, adjust the curriculum so learners are not left behind [and] deliver food to citizens," Maimane told News24.
In its call for schools to shut, OSAM staged a national stayaway under the hashtag #SchoolStayAway two weeks ago, which saw disruptions at a number of schools as well as demonstrations outside the department's head offices in Pretoria.
The organisation threatened to stage the demonstrations every Friday if the department did not adhere to its call.