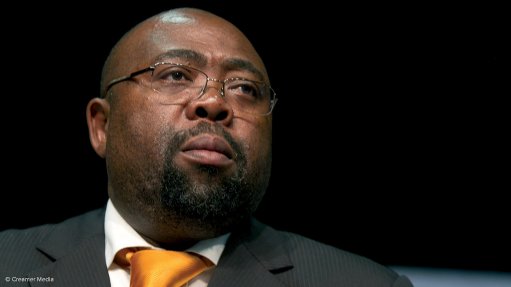 Public Works Minister Thulas Nxesi
Photo by: Duane Daws
Public Works Minister Thulas Nxesi has appealed for private sector support in the staffing of the new-look Property Management Trading Entity (PMTE), which is seen as the primary bulwark against future fraud, corruption and maladministration within the Department of Public Works (DPW), which manages the State's multibillion-rand property portfolio.
The portfolio is estimated to be worth between R400-billion and R500-billion.
Speaking at a briefing held to confirm the uncovering of "shocking" levels of irregular expenditure of R34.9-billion for the five-year period from 2009 to 2014, Nxesi said posts had been advertised for the head of the PMTE, as well as for a chief financial officer and a chief operating officer.
These posts, as well as the divisional portfolios, which would be filled later, should be occupied by "competent" professionals, including built-environment specialists, property lawyers and economists, as well as chartered accountants.
Nxesi said that, although the PMTE would be a unit of the DPW rather than a separate agency or company, it had been "ring-fenced" to enable the department to attract top talent from the property market.
"We want people from the private market to come and run [the PMTE]," Nxesi said, while promising a "very robust" selection process. "The requirements are very clear – [the posts] are for those who are qualified . . . because this area needs particular expertise."
The emphasis being given to the PMTE had arisen as a result of a turnaround diagnostic, which identified building contracts, property leases and day-to-day facilities management as hot spots of irregular expenditure and fraud.
More than 70% of the DPW's operational responsibilities related to property management and the R34.9-billion in irregular expenditure was discovered from a review of 1.3-million individual transactions that were concluded over the past five years.
Many of the irregularities related to breaches of policy and legislation, but the review also unearthed alleged fraud of R1.1-billion, which had been referred to the prosecution authorities.
Five criminal cases were currenlty under way, including cases against Roux Shabangu relating to lease agreements, and a corruption case involving former DPW employee Desmond Simamane and property-industry personality Sayed Hoosen Mia. Several civil applications had also been launched in an effort to recoup proceeds from these and other irregular transactions.
Various investigations were under way into other suspect transactions, while internal disciplinary cases were also being held, with six officials having already been fired since the institution of the turnaround strategy in January 2012.
In the current financial year, Nxesi said 15 cases were being investigated, including the so-called Nkandla investigation by the Special Investigating Unit (SIU), relating to security upgrades at President Jacob Zuma's private residence in KwaZulu-Natal.
The SIU was investigating 15 companies in connection with procurement irregularities arising from the Nkandla upgrade.
"We remain convinced that the creation of a fully-functional PMTE is at the centre of our turnaround strategy and that such an intervention will be pivotal to driving enhanced delivery of the department's mandate across its property and immovable asset base," Nxesi concluded.