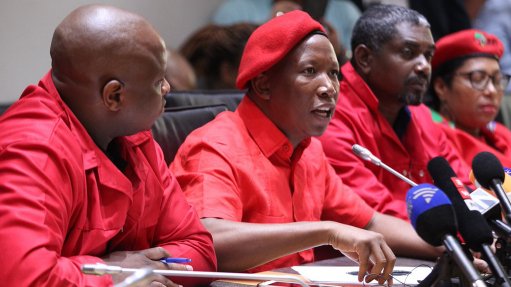 EFF leader Julius Malema
Economic Freedom Fighters (EFF) leader Julius Malema has said that there is nothing to celebrate under President Cyril Ramaphosa's leadership as the lives of South Africans were getting worse.
Malema was responding to Ramaphosa's State of the Nation address when he said the novel coronavirus (Covid-19) pandemic was not to blame, instead blaming Ramaphosa's leadership for protecting what he dubbed white capitalism.
Malema accused Ramaphosa of announcing "fake billions" in investments from the Ruperts and Oppenheimers which never reached poor South Africans.
"You have successfully displaced the Gupta criminal syndicate which had a lot of power during President Jacob Zuma's tenure, but it is now evident that the Guptas have been replaced by capture by white capitalists the Ruperts, Oppenheimer and all other white people who played a central role in buying the conference of the ruling African National Congress in 2017, " said Malema.
He said any South African leader who owed loyalty to colonial settlers and white State capturers was defining himself as an enemy of the people.
On the issue of unemployment, Malema said that Ramaphosa took over the Presidency when the unemployment rate was 26.1%, with more than 8.8-million people, mainly black youth, willing and ready to work, then unemployed.
"Today the unemployment rate has increased to 31% while the number of unemployed people has increased to well over 10-million. More than 2-million people who had jobs when he took office, do not have jobs," he highlighted.
He pointed out that Ramaphosa must take full responsibility when more than 2-million bread winners lose their jobs.
He said the economy under Ramaphosa's leadership had worsened despite empty promises at jobs summits.
On Covid-19-related corruption such as the procurement of personal protective equipment, he said it was evidence that Ramaphosa was failing to deal with corruption.
On the issue of the procured vaccine, Malema accused Ramaphosa of allowing white companies to be the main beneficiaries of the business deals while black companies were being marginalised under the suspicion that they were all corrupt simply because they were black.
On the issue of Covid-19 vaccines, he questioned why South Africa was not looking into getting vaccines from Russia.
"The provision of vaccines to South Africa must include equal effort to provide vaccines to all Africans including those from poor countries. Administering vaccines only in South African when our brothers and sisters on the African continent are not vaccinated is meaningless," he added.
Malema said vaccination and quality health care should be a human right.