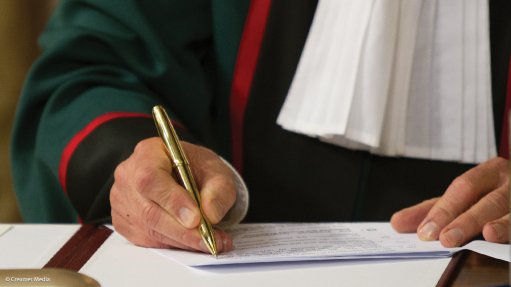 Photo by: Creamer Media
My Vote Counts on Tuesday applied to the Western Cape High Court to get the Political Party Funding Act (PPFA) amended to allow for the disclosure of all private donations made to political parties, and not only for those more than R100 000.
My Vote Counts is challenging the constitutionality of aspects of the PPFA, saying the legislation does not require political parties to account for how private funding is spent, unlike the case in relation to public funding.
In January 2021, President Cyril Ramaphosa signed a proclamation on the commencement of the PPFA, which regulates public and private funding of political parties. The Act came into operation on April 1, 2021.
My Vote Count's court application also seeks to amend the PPFA for the reduction of the upper annual limit of R15-million limit per donor and the organisation is asking for the disclosure of financial information related to all expenditure of private donations and limitations on donations from people or entities who are related to donors.
It argues that the excessive annual limit of R15-million leaves the door open to political parties being bondaged to the dictates of private interests.
The organisation states that while it appreciates the aims of the PPFA, the Act needs to be strengthened as it fails to meet its constitutional aims.
"There is no evidence that suggests that these amounts were determined using any data or analysis. The threshold on disclosure – i.e. R100 000 and the annual limit i.e. R15-million, limits the PPFA's ability to achieve its constitutional aims of meaningfully strengthening democracy and giving effect to the constitutional imperatives of transparency, openness and accountability," it said.
The organisation wants the court to immediately declare the R100 000 disclosure constitutionally invalid and wants Parliament to remedy all provisions of the PPFA within 12 months.
My Vote Count notes that without full transparency and full disclosure of all private donations to political parties, voters are unable to properly assess any influence of private interests over political parties and cast an informed vote.
Strengthening the PPFA will bring the country closer to a democracy where the country's politics is transparent and open, it says.