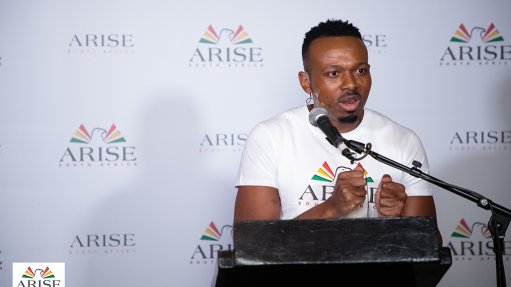 ARISE SA leader Mpho Dagada
Photo by: Supplied
With the country facing multiple crises in the lead-up to the 2024 election, leader of newly formed political party Arise South Africa, Mpho Dagada, says his party is ready to turn the tide using fresh, innovative ideas to move South Africa forward.
His party, which was officially registered with the Independent Electoral Commission a month ago, will be contesting the upcoming 2024 national and provincial election.
To date, over 2 000 members have registered with Arise South Africa and a few committee groups have been set up to help draft party ideas, with the assistance of young university volunteers who are using their skills to advance the party ethos.
Dagada said his party believed in introducing innovative ideas based on the Fourth Industrial Revolution (4IR) with a slogan themed 'pursue, innovate and recover'.
He told Polity that he was excited when he was appointed by President Cyril Ramaphosa as a Commissioner of the 4IR to advance ideas that would take the country forward but he admitted that he became frustrated when nothing came of it.
The 29-year-old says his party respects what has been done by the older generation, whom he referred to as "pensioners", saying there would not be the freedom that today's youth enjoy had it not been for them.
He said he recognised the work done by the politicians who fought apartheid but added that the time had come to take the baton and implement new strategies that involved young South Africans.
He said it was time for the older leaders to "enjoy their pension".
"As a Commissioner of the 4th Industrial Revolution, appointed by President Cyril Ramaphosa himself, I joined the commission with hopes of changing the country. I quickly realized that the government was not ready to implement our ideas and take action," said Dagada.
The author of the memoir titled Mr Bitcoin: How I became a millionaire at 21 said today he believed that factors such as education, crime and even ongoing power cuts could be resolved using advanced technology.
He added that South Africa's youth realized that solutions for the country could come from the 18 to 35 age group, where he said the bulk of unemployment lay.
Dagada said if he were appointed President of the country, he would hit the ground running, hence the eagle in the party's logo.
"The eagle does not move slowly. In a month we have done things that political parties that are many years old have not," he said.
EDUCATION
Dagada believes that young South Africans currently receive education that is not relevant.
He stated that Arise South Africa had already set up a political school where young people were taught innovative ideas to help them as they find their feet in the working world.
He said it was time for an education system overhaul and for the introduction of technology-based subjects, which he believed would help South Africa compete with first-world countries.
His party believed in early childhood development from the age of two and added that Arise South Africa would place emphasis on reading.
ECONOMY
Arise South Africa hopes to lower tax to attract investors.
Dagada revealed he had had a conversation with South African-born entrepreneur Elon Musk, in which the investor expressed willingness to invest in the country but not in its current economic state.
He said the business mogul was willing to invest in battery manufacturing which could be a solution to the energy crisis.
When asked about the debate on grants in the country which was also bloating the economy, Dagada said his party had resolved to issue incentives instead of "freebies".
He said there was no need to take away what needy South Africans had, however, there was a need to add incentives based on what would build the nation.