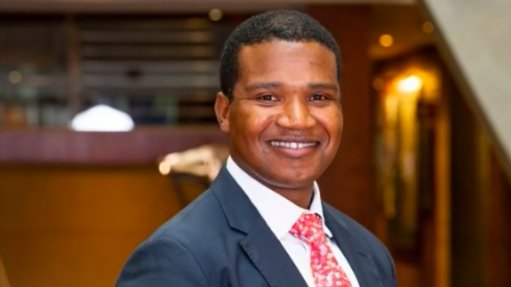 AngloGold COO Africa Sicelo Ntuli
JOHANNESBURG (miningweekly.com) – The transfer of Mponeng gold mine to Harmony Gold is down to Department of Minerals Resources and Energy approval under legislation relating to mine transfer, says outgoing AngloGold Ashanti CEO Kelvin Dushnisky.
Answering analysts questions following the presentation of the company's outstanding cash-gushing half-year results, Dushnisky said that even during the Covid-19 crisis, communication with government has been open regarding the Section 11 and Section 102 approvals relating to mine transfer.
"The average timeframe for getting a Section 11 approval has been six to nine months. We were fortunate. We've done it in five months in the past. We were using that as our yardstick, and we were making very good progress on that before Covid-19 delays. But there really is nothing more. We do expect the approval to come soon and that's just a process that we've been working through," he said.
AngloGold COO Africa Sicelo Ntuli reported earlier that the South Africa region, which includes Mponeng and Mine Waste Solutions that is also part of the Harmony acquisition, produced 146 000 oz of gold in the six months to June 30 at an all-in sustaining cost (AISC) of $1 279/oz. Covid's half-year impact was 55 000 oz, with the initial lockdown resulting in the loss of 25 production shifts.
Following the end of the second quarter, foreign mineworkers were recalled to South Africa and Ntuli reported that 98% of AngloGold Ashanti's foreign-based employees had returned to South Africa. These underwent a 14-day quarantine before being redeployed to the company's operations.
"Mponeng is in the process of ramping back to full operational capacity, excluding high-risk vulnerable employees," Ntuli said during the virtual presentation covered by Mining Weekly.
Despite this impact, the company's South African operations generated a half-year free cash flow of $35-million, a $4-million increase compared with the corresponding period of last year, Covid notwithstanding.
OPERATIONAL EXCELLENCE DRIVE
AngloGold's operations on the African continent excluding South Africa produced 773 000 at an AISC of $865/oz, up on last year's corresponding period on both counts.
"This is a strong statement to our operational excellence drive and efficiency improvements," said Ntuli.
The continental region generated free cash flow of $266-million, compared with $98-million during last year's corresponding period.
There were particularly strong second-quarter performances from Geita gold mine in Tanzania, as well as steady production performances from Iduapriem in Ghana and Kibali in the Democratic Republic of Congo (DRC).
Ntuli said that encouraging results were continuing from Siguri in Guinea and Obuasi in Ghana was continuing to ramp-up, delivering 50 000 oz in the first half of 2020, despite delays in receiving equipment and the arrival of certain critical skills to the site as a result of lockdowns in various jurisdictions, with the phase 2 ramp-up expected by the end of the first quarter of 2021.
At Geita, production was boosted by a 26% year-on-year increase on higher grade and throughput levels. In the second quarter, Geita achieved an AISC of $621/oz, the lowest unit cost production since 2014.
The Geita Hill underground mining permit was granted by the Tanzanian government in the period.
Cash flows were impacted by value added tax that continues to be locked up at Geita, totalling $131-million, and Kibali totalling $71-million. The company's attributable share of the outstanding cash balances awaiting repatriation from the DRC amounted to $293-million at June 30. Barrick Gold, the operator of the Kibali joint venture, continues to engage with the DRC government regarding the 2018 Mining Code and the cash repatriation.
With Dushnisky stepping down as CEO and executive director as of September 1, and the board announcing the appointment of current CFO Christine Ramon as interim CEO, Dushnisky, the company said, would remain in Toronto and until February 28, be available to assist with a smooth handover. At the same time, the board would embark on a recruitment process to find a new permanent CEO. Senior VP group finance Ian Kramer would assume the role of interim CFO for the duration of the transition period, the company said.