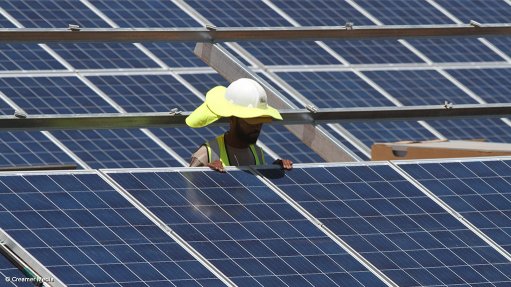 Photo by: Creamer Media
One of the key messages in the International Energy Agency's (IEA's) 'Africa Energy Outlook 2019' report is that neither State Budgets nor development finance will be sufficient to fund the investments required to meet Africa's growing power demands to 2040.
The report states that cumulative investments of $2.6-trillion, or 2.4% of gross domestic product (GDP), will be needed between 2019 and 2040 to meet growing demand and improve access to modern energy services. The IEA also calculates that a fourfold increase in power-sector investment will be required to meet the target, which would translate into yearly investments of $120-billion.
Such investment levels represent a material scale-up relative to the continent's current expenditure trajectory, which implies cumulative investments of $1.4-trillion over the period, or only 1.6% of GDP. Under such a trajectory, 530-million people on the continent will remain without access to electricity in 2030, falling well short of the universal-access development goal. Today, 600-million people in Africa do not have access to electricity and 900-million lack access to clean cooking facilities.
To improve energy access on a continent that will house two-billion people by 2040 – making it larger by that date than either India or China – private capital will have to be catalysed, as has been done in several countries in Asia in recent years.
"Mobilising private capital requires concerted efforts from both African governments and international development finance institutions (DFIs)," the report argues.
As things stand, however, 16 out of 43 sub-Saharan African (SSA) countries still do not allow private participation in both generation and electricity networks, despite the fact that 19 out of 39 utilities in the region are not able to recover enough cash to cover operational expenses.
Between 2013 and the first half of 2018, power-sector investments based on private participation in infrastructure models in the region amounted to about $4.5-billion a year, with South Africa accounting for more than half of that figure.
"Outside South Africa, each dollar of public funding (from DFIs and State Budgets) attracted $0.6 of private capital either directly (through equity and direct loan) or indirectly (through guarantees) – the figure is $0.4 for renewables. This compares unfavourably with $0.9 for South-East Asia and more than $4 for South Africa."
The IEA acknowledges that mobilising the levels of investment outlined in its report will be a significant undertaking, but also insists that it is achievable if concerted efforts are made by African governments and the global community.
"There are some precedents. India, for example, has invested the equivalent of 2.6% of GDP in the power sector since 2000 and China has invested 1.9% of GDP over the same period," the report concludes.