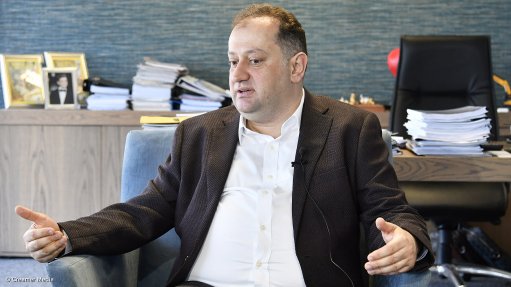 Photo by: Creamer Media's Dylan Slater
JOHANNESBURG (miningweeky.com) – Menar MD Vuslat Bayoğlu says that his company's planned R7-billion investments in coal projects between now and 2022 will create 5 600 jobs, and that this will contribute to the needs of a range of job-short areas and also help to ensure that Eskom has options to buy the right coal at the right price.
"Currently, we employ 3 800 people. So, in total, hopefully, by the end of 2022, we'll have reached 9 400 people," Bayoğlu tells Mining Weekly Online. (Also watch attached Creamer Media video.)
Bayoğlu regards the investments as critical at a time when banks are not providing capital for coal mining, even though Eskom will be needing coal.
"It's critical to have coal mines because by 2030, according to the Integrated Resource Plan, Eskom will still have 33 000 MW of coal-fired power capacity, requiring about 100-million tons to 110-million tons of coal, " says Bayoğlu.
Menar expects to be producing 20-million tons of coal a year from 2021/22 and is prepared to offer Eskom all the coal it produces and emphasises that social and labour plans, and opportunities for communities, will accompany all the projects.
Menar is a hands-on investment company that controls and manages Canyon Coal, Zululand Anthracite Colliery, Kangra Coal and Sitatunga Resources.
Canyon, which operates collieries and processing plants in the Mpumalanga and Gauteng provinces, is also involved in various exploration projects in various parts of the country.
Menar's strategy is to focus on developing all its coal projects before diversifying into minerals and metals other than coal.
In 2019, Menar ramped up Canyon's Khanye colliery, in Bronkhorstspruit, which is now producing 2.4-million tons of coal a year and employing 400 people.
Also during last year the company started work on the Phalanndwa colliery extension project, also in Mpumalanga, which will produce an average of 1 440 000 t/y of coal at steady state.
Khanye and the 200-job Phalanndwa extension resulted in investments totalling about R1-billion.
In 2020, Menar is planning to start the R1.5-billion Palmietkuilen project, which will create 800 jobs, as well make a first-quarter start at its De Wittekrans project, which will create 400 jobs. An estimated investment of R600-million is earmarked for De Wittekrans, located south of Hendrina, in Mpumalanga. An opencast and underground project, De Wittekrans has a 24-year life-of-mine, based on run-of-mine production of 300 000 t a month.
Also planned to start next year is the Riversdale Anthracite Colliery project, in Vryheid, KwaZulu-Natal, where a water-use licence is awaited. This project will attract an investment of about R300-million and employ about 200 people in what is an old coal/anthracite mining area, where most of the mines are closed and an insufficient number of jobs are being created.
There is also the Witfontein underground coal project, located north-west of Bethal, in Mpumalanga, where a start is planned in 2021. This project will employ about 500 people and will require an investment of about R1-billion.
In the same year, it is hoped that the Springfield opencast coal project will go ahead in Vereeniging. Located 26 km from Eskom's Lethabo power station, Springfield will produce seven-million tons a year and employ 800 people.
"If you pay R20 000 a month per person, with 800 jobs, you're creating a R16-million economy immediately," he points out.
"We're focusing on what we have and we're developing. Then, we'd also like to look at other minerals like manganese, nickel, cobalt and some copper projects, in South Africa and outside South Africa, in Democratic Republic of Congo, to diversify the business, dilute coal and look at how we can grow our portfolio of projects in minerals other than coal," Bayoğlu outlines.