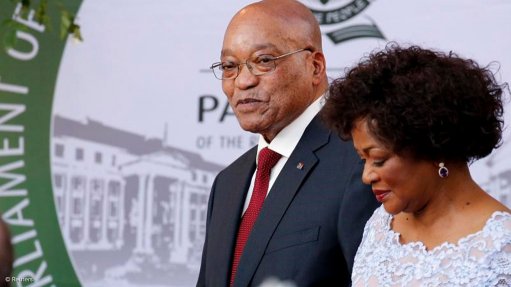 Jacob Zuma & Baleka Mbete
Photo by: Reuters
National Assembly Speaker Baleka Mbete cut short her trip to Bangladesh to take instructions from President Jacob Zuma on how best to protect him from opposition efforts to have him ousted, Democratic Alliance (DA) leader Mmusi Maimane said on Sunday.
"What she is asking for is instructions and direction from Jacob Zuma," Maimane told journalists in Cape Town.
He was commenting on a media briefing Mbete held at OR Tambo International Airport in Johannesburg a short while earlier, where she said she had flown back to deal with opposition requests for a motion of no confidence in Zuma to be debated in the Assembly and would in coming days consult and give "appropriate consideration" to the requests.
She said she would consult the African National Congress (ANC) national working committee (NWC) – the party's top six leaders – on Monday and leader of government business Deputy President Cyril Ramaphosa on Tuesday.
Mbete, a member of the NWC, appeared to contradict the critical account fellow members Ramaphosa and ANC secretary general Gwede Mantashe had given of Zuma's meeting with the group before he sacked Pravin Gordhan as finance minister in a sweeping Cabinet reshuffle in the early hours of Friday.
The DA made its call for a motion of no confidence, the fourth by the party against Zuma, on Thursday in response to his decision to order Gordhan back to South Africa from talks with investors in London. The Economic Freedom Fighters later decided to back the motion and want Parliament to hold a special sitting in the Easter recess to hear it.
Mbete's early return from Bangladesh, and the outspoken opposition from Ramaphosa, Mantashe, and ANC treasurer general Zweli Mkhize, has raised questions as to whether the president can continue to count on her support in a bitterly divided NWC.
Maimane said it was plain Zuma could. "Of course she is biased towards Zuma; she will shield the president," he told the media briefing in Cape Town.
The DA briefing was called to announce disciplinary charges against Western Cape premier Helen Zille, but was delayed to allow Maimane to watch a live broadcast of Mbete's own briefing.
Maimane said the time had come for South Africans of all persuasions to join hands to force Zuma out of office but noted that the campaign should not only be directed at the president but at his allies in the party as well.
"He is not an exception in the ANC. He is part of a collective and even Baleka Mbete is part of that collective."
The DA was convinced that ANC MPs would finally break ranks to vote for Zuma's removal. Some MPs had contacted him to ensure him of their support, he said.
It will be the fifth time the official opposition party has brought a motion of no confidence against Zuma. The ANC majority has voted each down with ease.
Maimane said the opposition would not push for a secret ballot because the time had come for those in the ANC who did not support Zuma to make their stance known publicly.