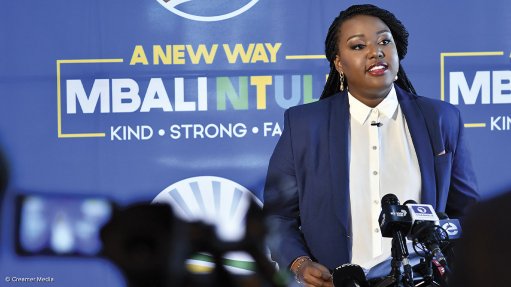 MBALI NTULI South Africans are looking for something fresh and new from us
Photo by: Creamer Media's Donna Slater
Former Democratic Alliance (DA) Youth Leader and member of the KwaZulu-Natal (KZN) Legislature Mbali Ntuli resumed her campaign for the party's leadership position last week.
Ntuli recommenced her campaign – having officially announced her candidacy in February – after a Covid-19 convalescence, by challenging interim party leader John Steenhuisen to a series of four live televised debates. This, she believes, is in the public interest.
The DA will hold its virtual federal conference between October 31 and November 1, where Ntuli, Steenhuisen and Gauteng DA leader John Moodey will vie for control of the party.
While the party did not perform as well as it had expected in last year's national election, Ntuli points out, on her official campaign website, that the party grew its support from 12.76% to 13.9% in KZN during her tenure and, subsequently, increased the number of seats held by the DA in the KZN Legislature from ten to 11 – making it the only province in which the party grew its support.
Ntuli appeared second on the provincial list for the DA in KZN and subsequently took office as the party's spokesperson on Cooperative Governance and Traditional Affairs.
"During my service I have traversed all levels within the party and served as a public representative in the different levels of government," she said.
Ntuli's website further states that she plans to build a kinder, fairer and stronger DA; clear up policy confusion and realign politics to become the core of a new majority.
"We have an opportunity we may never have again. South Africans are looking for something fresh and new from us. I believe, with your help, I can be a leader that will show South Africa how amazing things could be under a DA government," she campaigned.
The means of achieving this, Ntuli stressed, is to realise five key objectives, that include building relationships of trust and respect with other opposition parties that share the party's vision for South Africa, entering into coalition agreements between parties based on desired shared outcomes, and ensuring that they are available to the public to ensure transparency.
Further, she believes that the party needs to put the pro-poor service delivery agenda at the centre of governance activity.
She also urged the DA to diligently exercise good governance practices and lastly, centre engagement with coalition partners squarely on principles already agreed on to avoid the breakdown in relations witnessed in the metropolitan areas the party previously governed.
"In the next few months we are going to be fighting the toughest local government elections we have ever fought. For us to ensure that we instill as many councillors as we can, we are going to have to inspire voters that have never voted for the DA before. If we are able to do that, even those who stayed home or who decided against voting for us at the last election, will return. I want us to work together towards this goal," said Ntuli.
Moreover, her plans for the country at large include creating an inclusive stakeholder economy, addressing the climate crisis and improving social inclusion.
She joined Polity to unpack, in detail, her agenda leading up to the party's deliberative and federal conferences.