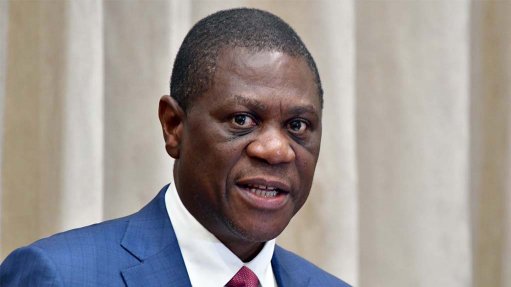 Deputy President Paul Mashatile
Deputy President Paul Mashatile is set to meet captains of industry amid an energy crisis that's stifling economic growth and souring investor sentiment.
Mashatile will meet with the country's top CEOs in a closed dinner hosted by the Johannesburg Stock Exchange on May 19, according to an invitation seen by Bloomberg.
Attendees will have an opportunity to put questions to Mashatile regarding the state of South Africa's economy as well as, "the key deliverables of his portfolio, policy reforms and actions to build investor confidence," the invite read.
Mashatile, 61, took over as deputy president in March after being elected in the same position at the ruling African National Congress' (ANC's) elective conference in December.
Investor confidence has waned as State-owned Eskom rations electricity for as long as 12 hours a day to prevent the grid from total collapse as it works to maintain an aging fleet of coal-fired plans prone to breakdowns.
Africa's most developed economy has been battling to keep up with its emerging market peers as it struggles to resolve worsening power cuts, high unemployment and inequality.
The rand weakened to a record low, falling below 19 per dollar on Thursday, undermined by the domestic challenges and reports that the US accused South Africa of giving arms to Russia. An index of South African banking stocks tumbled by the most this year as the local currency extended its losses.
South African companies are spending billions of rands to keep businesses running as the power crisis deepens and impacts earnings.
Mashatile will seek to restore business and investor confidence at the meeting, as the country prepares for general elections next year.
An increasing number of executives including Daniel Mminele, chairperson-designate of Nedbank Group and MTN's CEO Ralph Mupita have called for urgency in resolving domestic hindrances to economic growth and warned the country is at risk of becoming a 'failed State'.
The government's inability to resolve pressing domestic challenges has reduced the popularity of the ANC and President Cyril Ramaphosa. Last month, he pledged to attract R2-trillion of investment by 2028.