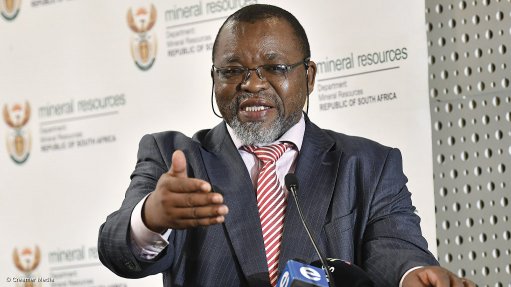 Mineral Resources and Energy Minister Gwede Mantashe
Photo by: Creamer Media
Mineral Resources and Energy Minister Gwede Mantashe reports that an updated version of the Integrated Resource Plan (IRP) for electricity will be released imminently for public consideration.
Responding to a question posed by the Democratic Alliance's Kevin Mileham during a Portfolio Committee on Mineral Resources and Energy as to why the revised IRP had not been released by the end of March as promised, Mantashe said the "rough IRP framework has been completed, it is going to be opened for discussion".
"We're late, as we said the end of March . . . it is going to happen now.
"We are pushing very hard on it," Mantashe said, labelling the new document "IRP 2023" and arguing that the revision from IRP 2019 was in line with the call for regular updates to the plan.
"It will come, it's not out yet, Honourable Mileham, my apologies, but we are working on it."
Mantashe did not offer any indication as to the nature of the revisions, but speaking during a meeting convened specifically for lawmakers to receive an update on the Koeberg nuclear power station's Long-term Operation (LTO) application, he again made the case for additional nuclear.
"You will know that we are working on a request for proposals for 2 500 MW of nuclear and sites have been identified . . . therefore we are hoping that at a point we will have more nuclear power around us."
He even argued that nuclear should be considered to be part of the "green transition".
KOEBERG LIFE EXTENSION
Meanwhile, Eskom used the briefing to offer technical, safety and timing assurances regarding the LTO, which would involve extending the life of the two reactors by 20 years.
The Koeberg licence is valid until 21 July 2024, unless amended for subsequent licensing stages including LTO.
The 21 July 2024 date is 40 years after the date that Unit 1 entered commercial operation, with Unit 2 having entered into commercial operation on 9 November of the following year, and Eskom has, thus, requested that the National Nuclear Regulator (NNR) change the licence to reflect a separate date for Unit 2.
"Eskom has confidence that the timelines will be met, and resources are provided to implement the remainder of the projects and commitments made in the LTO safety case that has been submitted to the NNR," Eskom's Sadika Touffie told the committee.
He also insisted that the Koeberg life-extension budget remained in line with the R20-billion announced in 2010, despite significant contract delays as well as indications from senior Eskom executives that the budget would far exceed that level. However, Touffie did acknowledge that Koeberg was dealing with more than 400 contractor compensation claims, 138 of which were in dispute.
"The main risks are associated with completing the large volume of work prior to LTO start.
"There are currently no technical challenges, and the activities are being closely project managed," he said, but added that some actions might not be completed prior to LTO and would become commitments for completion during LTO.
Generation head Bheki Nxumalo also stressed that the current delay to the steam generator replacement project, under way on Unit 1, did not impact the LTO programme, which was running in parallel, with NNR to make the final licence determination.
NNR nuclear power plants executive Orion Phillips reported that Eskom had submitted the safety case and a preliminary report was being drafted for submission to the NNR board in July.
By law, Eskom is required to submit a safety case that justifies that the plant can operate safely for an additional 20 years, until 2044 for Unit 1 and until 2045 for Unit 2, should a separate end date be confirmed for the unit.
Phillips reported that public consultation on the LTO was planned for completion in January 2024, whereafter an LTO recommendation would be made to the NNR board for consideration in March ahead of a final decision by July 2024.
"Because it is a very dynamic project . . . we have determined that by January 2024 we will be in a better position to make a call on the outcomes of what we have reviewed and what has emerged in the safety case," Phillips said.