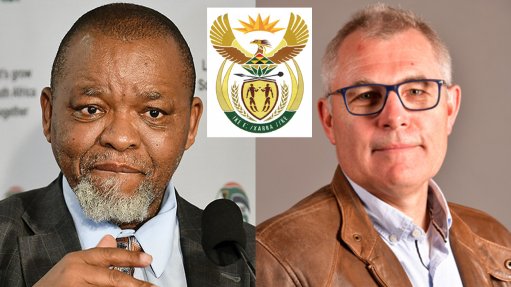 Mineral Resources and Energy Minister Gwede Mantashe and Shadow Mineral Resources Minister James Lorimer.
JOHANNESBURG (miningweekly.com) – The first R500-million worth of mineral exploration funds will be available from July, Mineral Resources and Energy Minister Gwede Mantashe told Parliament on May 16 when Shadow Mineral Resources Minister James Lorimer stated that a new mining vision can create new poverty-busting jobs and assure a flow of tax revenues to underpin the goods and social services that South Africa needs.
"Give mining a new deal and it could strike a mighty blow against poverty," said Lorimer.
Mantashe, acknowledging South Africa's slump to the worst position in recent memory on the latest world mining investment rankings, said on the occasion of the Budget Vote of the Department of Mineral Resources and Energy (DMRE): "One of the indices highlighted in the Fraser Institute survey is the transparency of licensing systems, and to this end, the bid adjudication process for the procurement of a licensing system with integrity is underway and will be finalised by July 2023."
Said Lorimer. "The promise of explosive growth that should follow from our fabulous mineral wealth, has never been realised."
Mantashe, in recommitting South Africa to attaining at least 5% of global exploration spend by 2025, stated: "To drive the implementation of this exploration strategy, we have negotiated with the Industrial Development Cooperation of South Africa on an exploration fund for junior miners, which will be concluded by the end of next month. In its first phase, the fund will consist of a combined investment of R500-million."
The sector created 23 552 jobs between December 2021 and December 2022, resulting in the overall employment of 472 088 workers.
"Our mining industry is not over. South Africa's mining industry just needs a new deal," said Lorimer.
Whilst production declined, the value of production registered R1.18-trillion in 2022, up from R1.1-trillion in 2021 on the back of strong global demand.
The South African Revenue Service has reported that mining contributed R89-billion in corporate tax in the 2021/22 financial year. A further contribution of mining to the country's revenue through royalties stood at R28.45-billion in the same period, keeping its percentage contribution to the gross domestic product at 7.53%.
"This is a clear indication that mining remains a strong pillar of our economy," said Mantashe.
But the country missed the resources boom of 2007 and the latest boom did not spark the takeoff of the industry as it should have, although it did rescue government finances.
"South Africa's mining industry built our country into one of the foremost economies of the world. We're a member of G20. For a long time, we were the biggest economy in Africa. But mining has fallen on hard times," said Lorimer.
The DMRE is following up on the implementation of 56 Presidential investment conference commitments pledged into the mining and energy sectors, totalling R397-billion. Among them are R16.5-billion by De Beers for Venetia diamond mine, R6-billion by Exxaro for Grootegeluk, R636-million by Impala Platinum for Two Rivers, and R175-million in the Steelpoortdrift Vanadium Project.
"These pledged investments reinforce our assertion that mining is a sunrise industry, ready to bolster South Africa's economy for years to come," said Mantashe.
"Yes, people can still make money running mines, and, yes, hundreds of thousands of South Africans make a living and a higher-than-average wage from mining, but given the promise of our mineral endowment, we should have done better," said Lorimer.
"The industry needs to grow. We need more mining not less. We need mining that focuses on long life of mines rather than cherry-picking and sterilising.
"We need mining that leaves as light and as temporary a footprint as possible so that when it's gone and the wealth realised, it does not leave decay, spoilt soil and poisoned water.
"We need to understand that mining can rescue our economy if only we let it. A new deal needs a transparent cadastral rights and licensing system … rapid efficient and honest licensing and permitting…. proper policing to ensure that the free exercise of mineral rights and the protection of our national asset reigns," said Lorimer.
Five years ago, Minerals Council South Africa estimated that by ensuring best practice in legislation and regulation, South Africa could create an additional 50 000 direct mining jobs and 200 000 indirect jobs. It has been calculated that each direct mining job supports ten people. That means a million South Africans out of poverty by getting it right.
"Today I believe that's an under-estimate," said Lorimer.
"In the alluvial diamond sector alone, we could easily claw back the 20 000 jobs that were lost because of the MPRDA's regulatory and transformation requirements. If we think the mining industry is a tool to right the wrongs of the past, we think by law and regulation, we can create a huge class of super wealthy people by socially engineering society, then we will betray the promise of our mineral endowment.
"For years, officials and politicians have been wriggling and twisting to avoid revealing exactly what rights have been granted to whom. Set a deadline. A new cadastral system could be in place within six months. Cancel the Mining Charter. You can draw a line through it in an afternoon. Better protect landowners and residents and keep a careful eye on who may be losers from mining activities. Separate those who are angry at being hurt by a mine from those who have not been made rich by it," said Lorimer.
Give mining a new deal and it could strike a mighty blow against poverty.