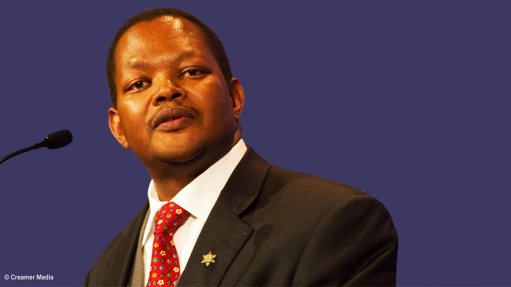 Eskom chairperson Mpho Makwana
Eskom chairperson Mpho Makwana has indicated that the current board is preparing a possible legal case against former Eskom CEO André de Ruyter for what he describes as "transgressions" arising from De Ruyter's publication of a tell-all book about his three-year tenure as head of the corruption-afflicted State-owned utility.
"It must be noted and placed on record that trust was broken by him [De Ruyter] making those public statements and with the publication of the book, and this trust was broken in the most repulsive manner possible," Makwana said during a briefing on the winter system outlook, which includes a warning of possible Stage 8 loadshedding.
By publishing a book, Makwana alleges that De Ruyter may have "transgressed" various domestic laws, as well as corporate governance rules and guidelines.
"Transgressions were carried out by an executive who was in a fiduciary position, in possession of proprietary information of a national key point, who himself evaded being vetted by processes that involved our national security agency.
"And most importantly breaches occurred in terms of the Protection of Personal Information Act, various aspects of an executive director's duties as defined in the Companies Act, the Public Finance Management Act and his own contract of employment clauses on confidentiality," Makwana averred.
He reported that Eskom's company secretary was already engaged with a process of review, together with lawyers and corporate governance specialists, and "appropriate and reasonable steps" would be taken once a final report had been received.
Makwana's statement follows on from Public Enterprises Minister Pravin Gordhan's scathing assessment of De Ruyter's recent actions, including his explosive eNCA interview and the publication of the book, during the Minister's appearance before Parliament's Standing Committee on Public Accounts (Scopa) on May 17.
"To write a book like this while you are supposed to be running a big organisation does raise some questions about what was [his] focus," Gordhan said, while questioning whether the decision to write the book might not be in breach of governance rules and a confidentiality clause De Ruyter signed when taking on the role of CEO.
De Ruyter resigned in December and departed Eskom in late February ahead of his end of March notice period, following the explosive television interview in which he indicated that senior politicians could have direct links to coal cartels operating in Mpumalanga.
He subsequently appeared virtually before Scopa from an undisclosed location, having survived an alleged murder attempt while still at Eskom, and reaffirmed his allegations of widespread corruption and sabotage at the utility, which he said was losing at least R1-billion-a-month to theft.
While refusing to name any implicated politicians, De Ruyter defended his decision to pursue a privately funded investigation of criminality at Eskom, which was undertaken by George Fivaz Forensic & Risk.
A News24 exposé has since raised questions about the quality of the information included in the report and the credibility of the lead investigator, Tony Oosthuizen, who was allegedly an apartheid-era military intelligence operative.
Makwana reported that the board's audit and risk committee had embarked on an independent investigation to ascertain the "veracity of the allegations made".