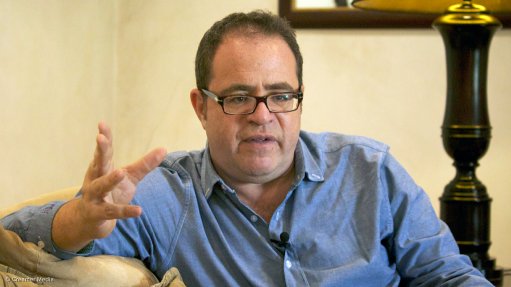 Mark Gevisser
Photo by: Darlene Creamer
When Mark Gevisser was a little boy, growing up in a apartheid South Africa, he was obsessed with maps, and with the Holmden's Registry, Johannesburg's Street Guide, in particular. He played a game called "Dispatcher" with this eccentric guide, transporting himself across the city into places that would otherwise be forbidden him. It was through "Dispatcher" that he discovered apartheid, by realising that he could not find an access route to the neighbouring township of Alexandra, and later, by realising that Soweto was not mapped at all. This was the beginning of a lifelong obsession with maps and with photographs, and what they tell us about borders and boundaries: how we define ourselves by staying within them, or by transgressing them.
Johannesburg is a place of edges and boundaries; no place for a flaneur: this book is Gevisser's account of getting lost in his home town, and then finding himself, and then getting lost again, as a gay Jewish South African who was raised under apartheid and who became an adult and married a man of a different race as the country moved towards freedom. Using maps and memories, photographs and stories, Lost and Found in Johannesburg presents a new way of understanding race and sexuality, heritage and otherness. If Gevisser transcended boundaries by playing "Dispatcher" as a boy, his own boundaries were brutally ruptured when he was attacked in a home invasion in January 2012, while completing this book. Lost and Found in Johannesburg is the story of that journey.
Gevisser is one of South Africa's leading journalists. His latest book, A Legacy of Liberation: Thabo Mbeki and the Future of the South African Dream is published by Palgrave Macmillan in the USA and UK, and by Jonathan Ball Publishers in South Africa under the title, Thabo Mbeki: The Dream Deferred. The book won the Sunday Times 2008 Alan Paton Prize and the NB Books 2008 Recht Malan Prize. The book has been lauded by the Times Literary Supplement as probably the finest piece of non-fiction to come out of South Africa since the end of apartheid and by the BBC's Fergal Keane as the indispensable and definitive account of post-apartheid South Africa.
After graduating from Yale in 1987 magna cum laude with a degree in comparative literature, Mark worked in New York, writing for Village Voice and The Nation before returning to South Africa in 1990. He is currently The Nation's Southern African correspondent. In South Africa, his work has appeared in the Mail & Guardian, the Sunday Independent, the Sunday Times and many magazines and periodicals. Internationally, he has published widely on South African politics, culture and society, in publications ranging from Vogue and the New York Times to Foreign Affairs and Art in America.
Since 2002, Mark has also been involved in heritage development. He co-led the team that developed the heritage, education and tourism components of Constitution Hill, and co-curated the Hill's permanent exhibitions. He is a founder and associate of Trace, a heritage research and design company. Mark also works as a political analyst; his clients have included several South African and multinational organisations and corporations. Mark is currently writer-in-residence, University of Pretoria, where he teaches in the journalism programme. He lives in France and South Africa with his partner.