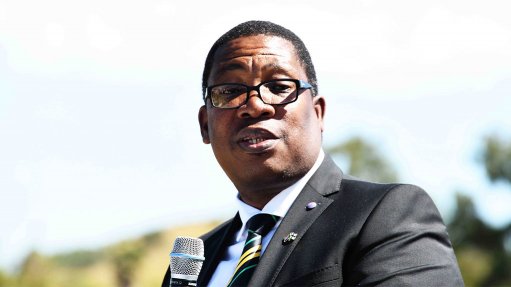 ANC Deputy chairperson in Gauteng Panyaza Lesufi
A fierce contest to determine who should lead the African National Congress (ANC) in Gauteng is expected to take centre stage at the party's provincial conference in Benoni this weekend.
Deputy chairperson in Gauteng, Panyaza Lesufi, will go up against provincial executive committee (PEC) member Lebogang Maile for the chairpersonship.
Despite the provincial leadership's assurances that there will be less security at the conference, roads leading to the Lakes Hotel and Conference Centre were barricaded and there was a heavy police presence. Gauteng secretary Jacob Khawe, who condemned the heavy security at the Ekurhuleni conference, gave the assurances.
The conference was delayed on Thursday because some delegates had not yet finalised their accreditation.
It will begin on Friday with an address by outgoing chairperson David Makhura.
ANC delegates from the province's five branches arrived in ANC regalia.
News24 understands meetings by those who support the two slates contesting the conference were held on Thursday.
These caucuses are the norm during ANC conferences and are often used to solidify numbers ahead of voting.
Crunching the numbers
Maile, in his "Adiwele" slate, is running alongside Ekurhuleni regional secretary Thembinkosi Nciza and Mzi Khumalo, who was expected to vie for the deputy chairperson position.
Lesufi has a more diverse gender dynamic in his slate, with deputy provincial secretary Nomantu Nkomo-Ralehoko set to contest the deputy chairperson position.
Sedibeng regional chairperson Thulani Kunene is expected to vie for the provincial secretary position.
Khawe, who does not belong to any of the popular slates, wants to keep his position, even though there is no word on whether branches support him.
He told News24 that he was still in the running and was confident that he had served his last term to the party's satisfaction - despite some views that his time was unsatisfactory.
News24 understands that Lesufi and Maile have considerable support in the five regions: Ekurhuleni, Johannesburg, West Rand, Tshwane and Sedibeng.
Those who have intimate knowledge of the slate dynamics in the province told News24 that most branches in Tshwane supported Maile. In Sedibeng, there's considerable support for Lesufi, with some backing Maile.
In Ekurhuleni, the numbers were close, with both men showing a support base.
In the West Rand, Maile is said to have the upper hand. In Joburg it's seen as too close to call, with both men sourcing support from the region's branches.
There will be 1 300 delegates who are eligible to vote, and credentials are expected to be adopted on Friday. Those who will vote include the ANC leagues and the PEC.