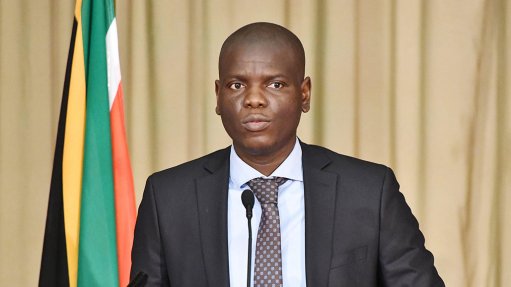 Justice Minister Ronald Lamola
Denying that brothers Rajesh and Atul Gupta's extradition from the United Arab Emirates was bungled, Justice Minister Ronald Lamola announced they would have a meeting with Emirati authorities to iron out the issues.
Responding to the debate on the justice department's budget, Lamola said the Red Notice - a request to law enforcement worldwide to locate and provisionally arrest a person pending extradition, surrender, or similar legal action - for the brother remained active.
"Which means if the Gupta brothers go to any country, where the Red Notice is active, there is still an obligation to that country to arrest them," he added.
Lamola reiterated they have done everything required of them regarding the extradition application.
He said, "So, the matter has not been bungled, it is being handled, and we are proceeding."
"We want to assure South Africans, with all extradition matters, they are protracted in their nature. But justice will prevail at the end."
The Guptas appeared in an Emirati court on 13 February, with the South African authorities completely in the dark, despite requests to be kept in the loop.
Only in April did the South African authorities catch any wind of the brothers' release, after a note verbale (diplomatic note) from the South African embassy in Abu Dhabi reached our shores.
South Africa could not appeal this decision, as it was heard by the Emirati appellate court.
The Guptas being on the lam is not the only setback in South Africa's quest for accountability for state capture - a week after that news reached South Africa, the first state capture case brought to trial has seen the Free State High Court granting Section 174 discharges to all but one of the accused in the National Prosecuting Authority's (NPA) Nulane fraud and money laundering case.
The final accused closed her case and was acquitted.
Acting Judge Nompumeleo Gusha was scathing in her judgment, saying: "It is an inescapable fact that almost R25-million of taxpayers' money left the fiscus.
"The questions that remain are why and who facilitated this. Regrettably, in casu [in this case], the institutions responsible to answer those questions failed," she ruled.
"At the risk of repetition, to say that the manner in which the investigation was conducted is a comedy of errors would be the understatement of the millennia," she said.
Without specifically addressing these matters, Lamola remained optimistic about the fight against corruption in his budget vote speech, claiming the NPA had made "significant progress in investigating corruption-related cases".
"The South African government is firmly committed to fighting crime, fraud, and corruption," he claimed.
"We have allocated a significant portion of our budget towards this critical mission. We must invest in this effort to ensure its success.
"To combat crime, fraud and corruption, the National Prosecution Authority's overall allocation for 2023/24 amounts to R5.407-billion.
"This amount includes the additional grant of R915-million made by government to strengthen our efforts in fighting crime and corruption.
"The Investigative Directorate is allocated a portion of R336-million out of the overall allocation."
Lamola said the NPA dealt with more than 850 000 criminal cases annually, with more than 600 000 being on court dockets.
"The progress made by the NPA is evident in the numbers. It is encouraging to see that they are growing from strength to strength," he added.
"Although there have been some setbacks, they are not insurmountable, and plans are in place to address them."
Opposition MPs were not as optimistic.
"While the minister is great at making promises and delivering plans on paper, he has been unable to put them in operation and had focused on attempting to propel his own personal career within his party, rather than make a success of the job he was given," said Democratic Alliance (DA) MP Glynnis Breytenbach.
She added one of the most pressing issues facing South Africa's justice system was "rampant corruption".
"Despite an endless number of high-profile corruption cases, very few of them have been held accountable for their actions. None of the high-profile kingpins have been held to account. It sends a clear message to the public that those in power are above the law, and that justice is only available to those with enough money and influence," she said.
She added the NPA have not succeeded in gaining the public's confidence that it was capable of "or even improving its capability, to deal with high-profile corruption".
Economic Freedom Fighters MP Yoliswa Yako noted the NPA had not prosecuted any high-profile cases and showed its incompetence by "bungling up the so-called extradition of the Gupta family".
"The Investigative Directorate is as toothless as the NPA itself. To date, that directorate has not done any of the things we expected out of it," Yako said. "Many high-profile criminals are walking around unbothered, and many of them, including their enablers, are walking around with blue lights as Cabinet ministers in this country."
African Christian Democratic Party MP Steve Swart said the legislation establishing the Investigative Directorate (ID) as a permanent entity should be introduced as soon as possible.
DA MP Werner Horn added Lamola's measures to strengthen corruption-busting agencies were vague.
"How can it be that seven months after the president announced, as part of his response to the Zondo Commission report, that the Investigative Directorate is to become a permanent feature, that the legislative amendments to make this a reality is still really nowhere to be seen?" asked Horn.
"Where is that bill? The clock is ticking."
When National Director of Public Prosecutions Shamila Batohi and her deputy, Anton du Plessis, appeared before the Portfolio Committee on Justice earlier this month, they both highlighted the urgency to pass this legislation.
"If we don't, the ID will not be able to do the work that we plan to do in the coming year," Batohi told the committee.
While Lamola referred to the legislation in his speech, he did not commit to a timeframe.