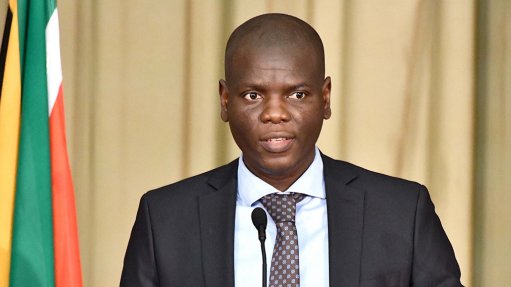 Justice and Correctional Services Minister Ronald Lamola
Through the compact between business, labour, civil society and government, South Africa is able to, and must, respond with collective hands to confront the challenges it faces, Justice and Correctional Services Minister Ronald Lamola said on June 3.
"It is the responsibility of all of us, in government and business, to bridge the inequality gap, and to build and create an inclusive economy so that it is not in the hands of a few, which is unsustainable and does not help to open the economy to grow in a sustainable way," he said.
South Africa has also been confronted with pervasive corruption and the Judicial Commission of Inquiry into Allegations of State Capture, chaired by Chief Justice Raymond Zondo, revealed the lack of ethics within business and government, Lamola added.
South Africans also do not feel safe because of the high rate of contact crimes, some of which are very violent, and this depresses the economic and social environments of citizens.
"This type of [high crime rate] environment can only be responded to through collaborative efforts and engagement to develop a clear plan. We hope, through [the National Economic Development and Labour Council (Nedlac)], to reaffirm the social compact to respond to some of these realities," he said.
The multiple national challenges also present fiscal challenges. The Department of Justice and Correctional Services has provided R1.1-billion to the Investigating Directorate (ID) of the National Prosecuting Authority (NPA) for the 2022/23 financial year to deal with corruption and crime matters.
"However, we do not have funds available to provide the ID with funding for the 2023/24 and 2024/25 financial years. We hope that, if the economy recovers, the National Treasury will find money to help us," he said.
"I want to send a message to all South Africans willing to come in and help with donations in terms of skills," Lamola said during a stakeholder engagement event hosted by the South African Chamber of Commerce and Industry, addressing mainly fellow members of the legal industry.
To overcome the challenge created by the complexity of crime and corrupt activities requires that the investigating authorities have, or have access to, high levels of skills, he explained.
"I am raising these issues because we are now at a time in our country where we have received the [Zondo Commission's] recommendations, which must now be implemented by the [Directorate for Priority Crime Investigation (Hawks)] and the ID in the NPA. We have to deal with the highly sophisticated matters that have come out of the commission of enquiry and its recommendations," Lamola said.
South Africa also requires international cooperation to pursue perpetrators and return money, he added.
"If we are able to do all this, including institutions such as the Hawks and the judiciary being able to do their jobs without fear, favour or prejudice, it will support an environment for investment in the country's economy and confidence that South Africa is able to deal with the crime situation," he said.
Further, the department is pleased that the courts have convicted people for the sabotage of infrastructure, often key economic infrastructure; however, the convictions will ring hollow if no effort is made to resolve and deal with the environment enabling this, he said.
The department is in discussions at Nedlac regarding regulations on scrap metal buying and exports and about the hollowing out of key infrastructure, which trickles down to the economy and impedes South Africa being able to respond decisively to the unemployment challenge, Lamola said.
"South Africa is in an environment where inequality is also leading to persistent racism, such as was highlighted by the racist incident at the Stellenbosch University and parents, communities and society have a responsibility to call children and youth to order and to teach them love and to embrace diversity," he said.
Similarly, combatting gender-based violence must be dealt with in communities and society, which is also linked to broken families and absent fathers, Lamola said.
"The criminal justice system is overburdened with situations that are not resolved in families and society. Challenges of family units and communities are being resolved through the criminal justice system, and we must question what each of our roles is as members of society," he said.
"Our view is that family planning, social development and communities have a significant role to play in building boys into capable and caring men. Further, it is the duty and responsibility of all of us as South Africans to confront gender-based violence at the school, family and society level before it becomes a criminal justice matter," he said.
The challenge South Africa is confronted with during Youth Month, in June, is that the majority of young people come from a reality of poverty and a broken socioeconomic situation with high levels of youth unemployment.
"A huge number of young people are sitting idle in communities, and we must determine what our roles as business, government and society are in creating youth employment. They also represent the largest reserve force that can provide skills into the economy.
"To solve our crime problems, we must resolve inequality, poverty and unemployment," he stressed.