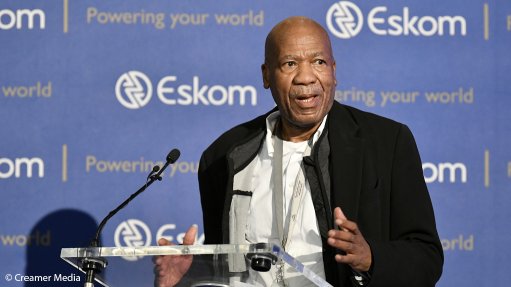 Former Eskom interim chairperson Professor Malegapuru Makgoba
Former Eskom interim chairperson Professor Malegapuru Makgoba believes there would have been no reason for former CEO André de Ruyter to pursue a privately funded intelligence investigation of corruption and sabotage at the State-owned utility had the law enforcement agencies done their jobs.
Some of the contents of the intelligence report were raised by De Ruyter in a bombshell television interview in February, in which he claimed that senior political figures had direct links to coal cartels operating in Mpumalanga.
Following the interview, it was agreed that he should depart the utility immediately rather than serve out his notice to the end of March, having already resigned in December.
Questions subsequently emerged about the credibility of the investigation, which was conducted by George Fivaz Forensic & Risk and whose lead investigator, Tony Oosthuizen, had been identified in News24 media reports as having been an apartheid military intelligence operative and assassin.
Speaking during a Standing Committee on Public Accounts (Scopa) meeting on Wednesday, Makgoba confirmed that he knew of the investigation, but indicated that it had been treated as an operational matter and was, thus, never board-sanctioned.
The investigation, which Business Leadership South Africa has admitted it supported with R18-million in funding, was also conducted without the knowledge of the rest of the Eskom executive.
"When [De Ruyter] decided to gather this intelligence, he decided really to do it on his own without involving his executive and I can confirm that when they [the executive] say that they didn't know, [that is correct].
"He told me he wasn't going to because of the leaks and because of the low trust that existed and because some Eskom people were going to be involved in being, I think, investigated in the matter.
"So that is how it happened: the board did not sanction a particular request, because this was an operational matter, and he had the authority to deal with it as Group CEO."
He said the decision to pursue an intelligence investigation came amid deep frustration over the slow pace at which the law-enforcement authorities were responding to information being passed to them by Eskom at a time when the utility was "being besieged with corruption and being besieged with sabotage".
"If the South African Police Service (SAPS) and the Hawks had done their work effectively and efficiently, we wouldn't be meeting here as a committee today.
"The Hawks were not doing what they're supposed to be doing, not that they were not investigating but they were just taking too long [and were] almost lackadaisical about what needed to be done when Rome was burning," he said, adding that the law enforcement authorities "let us down".
Defending the decision to gather intelligence, Makgoba said that it seemed like the SAPS and the Hawks had "only woken up after they had this intelligence-related information", highlighting that, in his State of the Nation Address (SoNA), President Cyril Ramaphosa announced that 43 arrests had been made as a result of an "intelligence-driven" operation.
He even suggested that Eskom's shareholder Minister, Pravin Gordhan, had prompted De Ruyter to gather intelligence and insisted that Gordhan, as well as other government leaders and the law-enforcement authorities had been made aware of the intelligence.
However, he denied having ever seen a report, saying that he had become aware of the intelligence by "word of mouth" and had subsequently insisted that De Ruyter inform the shareholder Minister, the law-enforcement agencies and The Presidency in line with his obligations under the Prevention and Combating of Corrupt Activities Act.
"I can also confirm that I know that on 5 July 2022, Mr De Ruyter did inform [National Security Adviser] Dr Sydney Mufamadi and Gordhan and that, on the 16 July 2022, De Ruyter took Minister [Bheki] Cele, Minister Gordhan and Minister [Gwede] Mantashe to Tutuka for them to have first-hand information of what corruption and sabotage means at a single power station, along with the President.
"And later on, I think the President came to meet some of the power station managers at Megawatt Park to discuss what he had learned, and he was obviously very much engaged in that, so the President had been briefed on 16 July," Makgoba said, again highlighting reference to the intelligence effort in the SoNA.
Questioned by Scopa members as to whether he had honoured his duties to Eskom by not ensuring that the board had direct oversight of the investigation launched by De Ruyter, Makgoba insisted that the board was not meant to interfere with operational matters.
"We don't have GCEOs that are really there to be controlled by the board.
"The reason why we appoint them is because we think they are competent to run the organisation, make decisions that are appropriate and come to the board for guidance and strategic direction, not to come there for their operational observations."
However, Eskom board chairperson Mpho Makwana, who had on several occasions described the current board as an "activist board", took an entirely different stance, arguing that De Ruyter should have informed him and the new board of the intelligence investigation.
Makwana denied that De Ruyter had done so at a meeting in November at the Eskom Academy of Learning and was supported in this assertion by various other board members present at the Scopa meeting.
However, Dr Claudelle Von Eck indicated that De Ruyter had referred to an investigation during the meeting, but that it had never been made clear that it was an "external investigation that was being run outside [of the Eskom structures] and that executives were not aware of it".
Eskom security head Advocate Karen Pillay said she was present at the July 5 meeting, where some of the information was shared with government officials, as well as with General Fannie Masemola, but said no mention was made of an intelligence report or the involvement of a private company.
However, Pillay said she became aware of De Ruyter's association with George Fivaz Forensic & Risk in September 2022, when reports emerged about a possible bugging device found in De Ruyter's car.
The Scopa meetings into De Ruyter's allegations will continue next week.