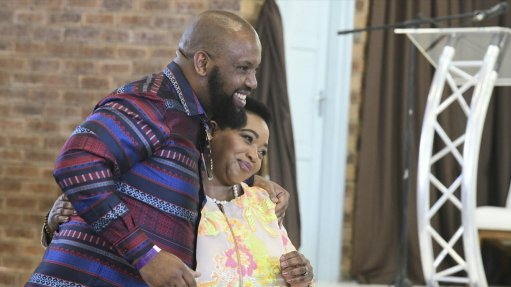 KZN Provincial Chairperson of the ANC Sboniso Duma with KZN Premier Nomusa Dube-Ncube
Madam Speaker, I rise inspired by the spirit of Winnie Mandela, Albertina Sisulu, Victoria Mxenge and many more other pathfinders of this freedom to salute all women of this province.
Today, we have demonstrated without any shadow of doubt that as the African National Congress we are determined to sustain the struggle that was started by women of this country in 1950.
Despite the brutality of the regime, thousands of innocent women joined in these peaceful demonstrations, determined to ensure that one day Africans would have a freedom of movement, the right of choice of residence and the right of freedom to purchase land or fixed property from anywhere.
This women fought for a brighter and peaceful future. Their thirst and yearning for freedom united all South Africans to rise against all odds to attain the freedom we are enjoying today.
Honourable Members, as deployees of the ANC - we always draw inspiration from these heroines of our times.
Today we have elected the first ever woman Premier to demonstrate our commitment as the ANC to ensure the total liberation of women.
We are confident that Premier Nomusa Dube-Ncube will strengthen all efforts aimed at ensuring the economic empowerment of women.
As the ANC we have always held the view that the economic well-being of a society cannot be achieved if women are massively underprivileged, particularly in the employment sector, compared to their male counterparts.
Nor can an economy remain healthy without utilizing the contributions and skills of women in different economic activities whether it's education, health, engineering, construction, information technology, maritime, mining or automotive industry.
It is for these reasons as the ANC we are championing women empowerment programmes. The ANC, as a governing party in this province, has made significant progress in political representation of women in decision making, particularly at the provincial and local tier of government. Unlike the Democratic Alliance which pursues neo-liberal policies.
As the ANC we have also emphasized the importance of radical economic transformation, unlike the Democratic Alliance which pursues neo-liberal policies.
Such transformation must result in the empowerment of women and all those who still live in abject poverty and underdevelopment because of the legacy of the apartheid government.
I thank you