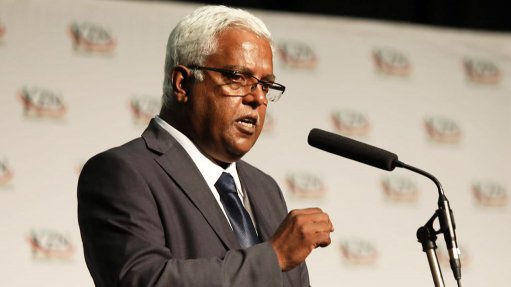 KZN MEC for EDTEA, Ravi Pillay
Programme Directors
Msunduzi Mayor, Cllr Mzimkhulu Thebolla;
EDTEA Head of Department; Mr Nhlakanipho Nkontwana;
The Deputy Vice Chancellor for Research Innovation and Engagement at DUT, Prof Sibusiso Moyo;
Delegation from the Progressive Youth in Business;
Delegation from the Mzansi Youth in Business;
Delegation from the Youth in Business SA;
Representatives of Youth In Action;
Government Officials;
Ladies and gentlemen;
It gives me great pleasure to get this chance to engage with young entrepreneurs. Today's engagement is the first of four engagements I will be having with young people in different parts of the province. Similar engagements have been planned for Ulundi, eThekwini and Margate with the latter being an engagement with unemployed graduates.
We do this not because it is Youth Month and not because we want to tick boxes. We do it because we really value the voice of young people including those in business and the unemployed.
In all different phases of our history, it is the young people who have always led the charge in confronting whatever challenges we were confronted with.
It was the youth led by Anton Lembede and Nelson Mandela in in the mid1940s which brought militancy to the struggle against apartheid. It was the young Steven Biko, who died at the young age of 30, who revolutionized the way we think about ourselves as Black people and it was the class of 1976 sacrificed their lives as they rejected a system of education that was meant to further entrench apartheid.
Today, we are confronted with the Covid-19 pandemic which has destroyed economies across the globe. The pandemic has led to a rise in unemployment and at the same time laid bare the inequalities that persist in our society.
We therefore believe that during these trying times, the youth must be at the forefront of our fight against Covid-19 and should be allowed to inject new energy and ideas into our economic recovery efforts. Later during the engagement, I would like to hear these ideas from the young people in this room.
I must say that the high rate of unemployment especially among young people remains a cause for concern to us. The Quarterly Labour Force Survey conducted by Stats SA shows that unemployment in our country rose from 32.5 in the fourth quarter of 2020 to 32.6 in the first quarter of this year.
During the same period, unemployment rate in KwaZulu-Natal increased by 0.9%. There is no doubt that this is a crisis and there is also no doubt that the majority of the unemployed are young people.
It is for this reason that the theme for this Youth Month is: "The Year of Charlotte Maxeke: Growing Youth Employment for An Inclusive and Transformed Society".
Allow me to reflect a bit on how we as the Department of Economic Development, Tourism and Environmental Affairs are contributing towards efforts to grow youth employment.
In the next few weeks we will be rolling out the disbursements of Operation Vula Fund. I know that many young people have been asking questions - through social media and other platforms – as to when they will be receiving the grant funding.
A total of 4229 applications were received for consideration. The due diligence checks and balances led to the delay in concluding the applications. We are pleased to announce that 1025 applications with a value of R322,319 million have now been approved for funding.
Of these, 383 applications were by youth owned businesses. A total of 178 applicants have already received business instruments to the value of R29.7 million. We believe this funding will enable entrepreneurs and enterprises to create more jobs especially for young people.
Apart from Operation Vula Fund, we will fund 350 youth businesses in the current financial year and this will be done through funding mechanisms in the department and in our public entities and through partnerships.
For the current financial year EDTEA and its entities has also allocated R67.7 million towards job creation for the youth. We have also set aside R68 million for entrepreneurship development and support targeting the youth.
As I reported in the Department's budget speech, in the last financial year we disbursed R250m to over 953 SMMEs thereby creating 1 285 jobs through the Enterprise Development Fund. A further 217 jobs were created through the cooperatives support programme.
In this financial year we aim to place 1000 young people in employment through the Youth Technical Skills Placement programme and also to assist 500 unemployed graduates with employment referrals, placement and training as part of the KZN Unemployed Graduates Assistance Programme.
We will also create 6000 job opportunities for young people through the Youth Employment Service Co-ordination within Private and Public Sector which includes EDTEA Extended Public Works Programme and private sector engagement.
Currently we have 624 interns and graduates placed in the department and at various public entities under it.
The incubates who are with us here today are proof of our endeavours to support youth in specialised economic sectors such as ICT and Agri business through incubation. We thank the DUT for having partnered with us on this programme which I believe is a practical demonstration of what can be achieved through social compacts.
Programme directors, we would certainly want to do more. But the fiscal pressures mean we have less resources at our disposal while the need remains great. We however urge entrepreneurs especially the youth not to be discouraged if they do not get approved for funding or placement through any of the programmes I mentioned earlier. Please persevere and keep on trying.
I thank you.