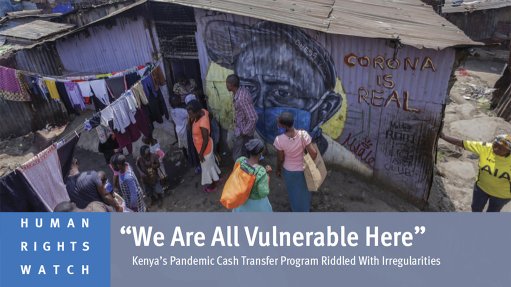 On March 27, 2020, Kenyan authorities introduced measures to contain the spread of the novel coronavirus, including a dusk-to-dawn curfew and a directive to Kenyans to work from home. For "Wanjiku", a 27-year-old pre-school teacher and single mother living in Mukuru Kwa Reuben, an informal settlement in Nairobi, that would be the start of the most difficult nine months of her life.
Her employer, a private school in Mukuru Kwa Reuben, immediately notified her and other staff that they would not be paid for as long as the school remained closed due to the pandemic. When Human Rights Watch interviewed Wanjiku, who was with "Janet", her four-year-old daughter, in November 2020 when schools were still under lock and key, they were struggling to make ends meet. It wasn't until January 2021 that schools reopened.
Two days before the start of the lockdown, on March 25, President Uhuru Kenyatta announced a range of measures to cushion the economic impact of the pandemic, including adding Ksh10-billion ($100-million) to a social protection fund for the older people, orphans and those with underlying health conditions. About two months later, the president announced a cash transfer program for the most socio-economically vulnerable populations, including people with disabilities, pointing out that his administration was already paying out Ksh250-million ($2.5-million) to the most vulnerable households each week.
Report by the Human Rights Watch