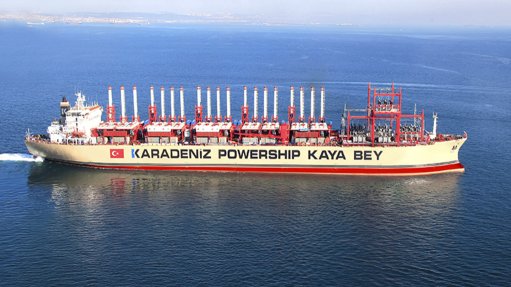 Karpowership, the Turkish company seeking to supply 1 220 MW of electricity to South Africa, had one of three appeals against adverse environmental rulings rejected, a person with knowledge of the matter said, potentially delaying a solution to the country's power crisis.
The Department of Forestry, Fisheries and the Environment rejected the appeal to moor a ship-mounted power plant capable of generating about 450 MW at the Coega harbor in the Eastern Cape province, the person said. Decisions on plants planned at the Saldanha and Richards Bay harbors have yet to be communicated to the company, the person said, asking not be identified because the government hasn't made the information public.
The ruling complicates the South African government's attempts to tackle the nation's worst power crisis yet, with a shortage of generation capacity causing rotational blackouts of as many as 12 hours a day. The Turkish company won a tender in March 2021 to supply the electricity but has since been mired in lawsuits and environmental challenges.
Albi Modise, a spokesperson for the ministry, said he couldn't comment, while a spokesperson for Karpowership didn't immediately respond to a request for comment.
While Energy Minister Gwede Mantashe has repeatedly said Karpowership should be allowed to proceed with its plans, Environment Minister Barbara Creecy has said the power crisis won't see environmental concerns disregarded.
South Africa has suffered intermittent blackouts since 2008 that are now becoming a key political issue ahead of next year's elections. Opinion polls indicate that the ruling African National Congress may lose its majority for the first time since taking power in 1994.
The Green Connection, an environmental nonprofit, also challenged the appeal on the Saldanha decision. It alleged Karpowership's consultants misrepresented people as small-scale fishermen in their environmental application.
"We call on the competent authority to suspend the pending application for environmental authorization and to fully investigate this allegation," the Green Connection said in its complaint sent to Bloomberg.