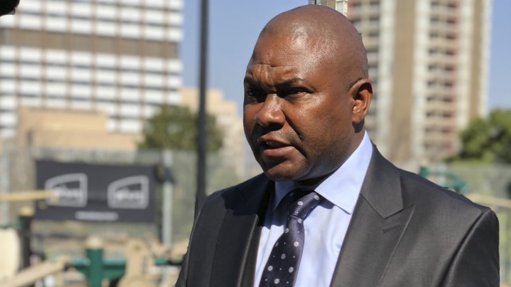 Newly appointed Johannesburg executive Mayor Jolidee Matongo
A special City of Johannesburg council meeting on Tuesday saw City of Johannesburg Finance MMC Jolidee Matongo elected as the new executive mayor.
Matongo was elected unopposed after the post was left vacant following the passing of former mayor Geoff Makhubo in July.
Matongo said he appreciated the "honour and privilege to lead Africa's pre-eminent City" for the remainder of the mayoral term.
"We are taught in the African National Congress that the assumption is very dangerous, so we did not assume that at this hour I will be in this podium but we always carry hope with us. So at this hour Madam Speaker let me just thank the African National Congress, the region, province and the national officials for the confidence they have showed in me but also thanks all the 269 councillors who have, I think [for the first time] in the history of my City, unanimously decided that we will not look at any other candidate but yourself Councillor Matongo," he said.
He said he hoped that political parties could put aside their differences and pull together in the best interest of residents of Johannesburg.
He added that it must be ensured that the daily lived experience of the people of Johannesburg was improved.
Matongo is expected to announce members of his Mayoral Committee on Wednesday.
"It's not a one man show, the team must come together. We must review their plans and everything that is on the table then make that official statement and council can engage with at the next meeting," he said.
PLANS FOR THE CITY
Matongo said financial responsibility was part of the metro's top priorities, adding that there were a number of things the City had to do to ensure that it was sustainable.
"Good governance is critical because we can have all the resources we want but if the resources are not deployable or used in a manner that ensures that services are delivered to the people of Johannesburg we are going to have a problem, we are going to have an unauthorised expenditure, so the whole priority around good governance is important for us to ensure that we deal with malfeasance, corruption and maladministration," he stated.
The City will focus on unemployment, work that had already begun during Makhubo's administration.
Matonga said he did not think there was pressure on him to reveal his plans for the City.
He said his team would ensure that those who were assigned the responsibility to deliver the services do so, adding that his team would ensure that plans were implemented and the budget was spent.
He said the City was also developing a financial and economic recovery plan with the provincial and national governments to ensure that the City responded to the Covid-19 pandemic.
Speaker of the Johannesburg Council Nonceba Molwele congratulated Matongo, who holds a BTech degree in public management, project management and quality assurance.
He is currently working towards his master's in public administration.