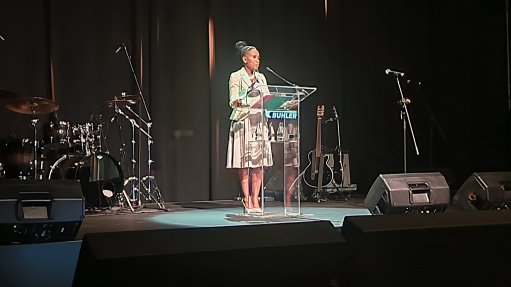 Johannesburg Mayor Dr Mpho Phalatse
Members of the Mayoral Committee present
Councillors
Acting City Manager, Mr Byrne Maduka
Region G Director, Mr Mickey Padayachee
City and Entity Officials – the people who make this Region and City work
Members of the media
Residents of Region G and the City at large
As a starting point, I must say that it is great to be back in office and on the ground, not because of the perks or privileges that come with the title of "Executive Mayor" but because of the responsibility to serve that comes with the title. I can say that this sentiment applies to the MMCs.
I am excited because alongside you, the Multi- Party Government can once again forge ahead with the repair and rebuild of Joburg, across its 7 Regions, and for all 6-million residents.
As we continue with the mammoth task of repairing and rebuilding Joburg, I want to remind you of what this programme is underpinned by – the 7 Mayoral Priorities. These priorities must find expression in all that we do. The 7 Mayoral Priorities are:
A City that gets the basics right
A safe and secure City
A caring City
A business-friendly City
An inclusive City
A well-run City
A smart City
Between now and 2026, when the Multi-Party Government completes its term of office, having done all that we can as politicians and officials, we should be able to look back and say, "we did our best for the residents of Joburg".
The repair and rebuild programme will enable us to build a City of Golden Opportunities.
The work we do today may not be seen or felt immediately, but it contributes to the overall and lasting functioning of Joburg for generations to come. What we do – whether as politicians or officials – must always be with the idea that we want our children and their children to live in a City that is vibrant, safe, and resilient and delivers a quality life for every resident.
Our words must translate into action.
Region G officials,
The more than 50 capital projects, worth more than R2-billion (R2,438,329,200) over the medium-term (between the 2022/23 and 2024/24 financial years), will contribute to the development of a Region that has seen poor investment over the years. By way of illustrating our commitment to this Region, it must be noted that only Region F (Inner City and surrounds) is receiving a greater share of capital expenditure.
The historical lack of investment in this area has contributed to it being the Region with highest unemployment rate at 42,1% in the City. With this number, I am sure everyone one of you has friends and family who are at the receiving end of the cruelty and indignity of unemployment, we therefore have a vested interested in seeing this Region work – both figuratively and literally.
We want to see greater investment from the private sector in Region G. I am therefore calling on investors to match the more than R2-billion investment being made by the City, so that we can see sustained development, including the creation of jobs.
Businesses wanting to invest in Region G and the City generally, can be assured that with the Multi-Party Government in c office, the money will go where it is intended, in a responsible and transparent manner.
Ladies and gentlemen,
I am aware of some of the issues that stand in the way of you executing your service delivery mandate with ease and passion.
Work is underway to ensure that officials who require personal protection equipment (or PPE) receive the necessary gear, especially those on the frontline of service delivery, in the main the Augmented Field Service, JMPD, nurses, Pikitup, JRA and Joburg Water. Your pleas have not fallen on deaf ears.
We can only get the basics right, when the women and men working to repair and rebuild the City have the necessary resources.
Over and above this, the effects of COVID-19 still linger with us. Some of these lingering effects are of a financial nature, which has seen unscrupulous loan sharks take advantage of you. I can assure you that you are not being left to fend for yourselves.
The MMC for Group Corporate and Shared Services, Cllr Leah Knott, has put measures in place to protect you from these loan sharks. Some of you have already benefitted from this programme, but if you have not, I would like to encourage all those experiencing financial pressure to confide in your managers and to seek assistance from the Employee Assistance Programme which can be contacted on 011 407 6577.
It is important that I state that despite, what has been said in the media, the City is not broke; and we are in the position to cover all 'unavoidable costs', i.e. water, electricity and salaries. Furthermore, as it stands the City's Sinking Fund – the fund that is set aside to repay loans or bonds – is adequately funded for the next 3 years.
Colleagues,
We know the political tremors of the last two-months have affected the morale of officials at the Metro Centre and the Regions.
Therefore, on this I want to say to you, regardless of who leads the Executive, the residents still depend on you to live a life of quality and dignity. Political leaders come and go, but you, the officials are a permanent and important feature of the functioning of Joburg.
I cannot expect you to ignore what happens in Council, but I want to encourage to show up to work everyday in service of the residents. Your work is too important to slow-down due to what happens in Council. Noting that your contract is with the City and the residents, not us as politicians.
Regional Director,
The Multi-Party Government has been hard at work to ensure that Departments and Entities do not work in silos but rather together, well understanding their co-dependency.
For example, we cannot talk about extending the operating hours of clinics through the Department of Health without taking into account the safety of officials and patients at these facilities. Therefore, it is important that the Health and Public Safety Departments speak with each other. And this crosses over to all the workings of the City. We must be one City, working towards one goal.
Good people of Region G,
I am disheartened to hear that the Region often experiences issues with IT connectivity, resulting in administrative delays. This is completely unacceptable and must be attended to with the urgency that it deserves. I will be discussing this emergency with the Acting City Manager as wells as the MMC for Finance, Cllr Julie Suddaby, who oversees the Group ICT Department.
We cannot be a public service that is punctuated by the South Africanism of "system offline". This undermines the work of service delivery and our commitment to the residents of getting the basics right.
MMC for Development Planning, Cllr Belinda Echeozonjoku,
We must work towards ensuring that all of the City's services are available in the Region. It is unfair that residents from Region G must travel to the Metro Centre in order to access the services of the Department of Development Planning, because there is no office representing the Department in the Region.
MMC for Economic Development,
Further to this, while I call for investors to match the Multi-Party Government's more than R2-billlion medium-term investment in Region G, this cannot happen in an organised and direct manner when the Department of Economic Development does not have a footprint at the Regional Office.
These gaps must be urgently filled so that Region G operates at full capacity.
Ladies and gentlemen,
Region G must feel and be part and parcel of the repair and rebuild of Joburg, and it is my commitment that you will get your fair share of resources so that you can fulfill this mandate.
In closing,
I would like to thank you for your service to the City and its residents. I know we, the politicians, get most of the thanks when things go well, but I want to pass on those "thank you" to you – the men and women who make Joburg work.
Ke a leboga. Baie dankie. Ngiyabonga. Thank you!