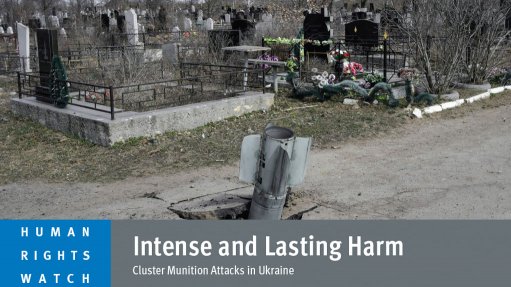 This report presents the types of cluster munitions being used in the international armed conflict in Ukraine in 2022 and the civilian casualties immediately suffered and civilian objects damaged.
Since Russia's invasion of Ukraine on February 24, 2022, Russian armed forces have used at least six types of cluster munitions in attacks that have caused hundreds of civilian casualties and damaged civilian objects, including homes, hospitals and schools. Evidence indicates that Ukrainian forces have also used cluster munitions at least once.
The exact number of Russian cluster munition attacks is not known, but hundreds have been documented, reported, or alleged to have occurred, many in populated areas. At least eight of Ukraine's 24 oblasts (provinces) have been struck by cluster munitions: Chernihiv, Dnipropetrovsk, Donetsk, Kharkiv, Kherson, Mykolaiv, Odesa, and Sumy.
Report by the Human Rights Watch