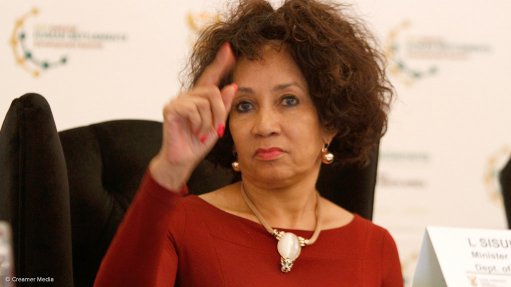 Tourism Minister Lindiwe Sisulu
The South African government, through the department of SA Tourism (SAT), is looking at sealing a deal worth almost R1-billion to sponsor one of England's elite soccer clubs, Tottenham Hotspur.
SA Tourism proposed a three-year deal worth £42.5-million (about R900-million) starting at the beginning of the 2023/24 English Premier League season and ending at the end of the 2026/27 season.
The presentation revealed that in exchange for the whopping investment, SA Tourism would receive kit branding, interview backdrop branding, match-day advertising, partnership announcements, training camps in South Africa, and free access to tickets and stadium hospitality.
However, it noted that a risk was raised at a board meeting on 27 January 2023, which was related to Tottenham being relegated to a lower division during the three-year agreement.
"While this is obviously unlikely, given the historic performance of Tottenham Hotspur, raising this will undoubtedly bring into consideration a possible bonus payment to be made by SA Tourism should Tottenham Hotspur perform better than expected," the proposal read.
A source close to the matter told News24 that the proposal was presented and voted for at a board meeting held at 20:00 on Tuesday.
According to the source, Tourism Minister Lindiwe Sisulu met with Tourism SA acting CEO Themba Khumalo before the meeting.
The source said a delegation was expected to fly out on Thursday to sign off the deal.
News24 understands that the finalisation of the proposal has to be settled before the imminent Cabinet reshuffle by President Cyril Ramaphosa.
The documents read, "For SA Tourism to break through the noise and reclaim our position in the global travel community, we will need a step-change growth strategy and a series of BIG strategic and specific actions to re-assert our position above pre-[Covid-19] pandemic performance measures."
The documents also revealed that SA Tourism engaged with the club to be a tier-one partner of "London's most valuable football brand and the 8th most valuable football brand worldwide".
The documents further revealed that some board members, including South Africa's High Commissioner in the UK, had already been to the Tottenham Hotspur Stadium to assess and verify the "feasibility of this proposed venture".
It noted that the football club had strong links to SA, with Manchester United's Benni McCarthy, Mbulelo Mabizela, Steven Pienaar, and another local, Bongani Khumalo, having donned the team's colours.
Under the Q&A regarding the financial obligation to be incurred by SA Tourism in terms of the partnership proportionate to Return on Investment (ROI) it would obtain as a result, the proposal stated: "As entering into a sponsorship partnership with Tottenham Hotspur will likely result in a disproportional contribution (of more than 36%) towards the achievement of primary objective (21-million tourist arrivals), it would therefore be completely justifiable for SA Tourism spending a disproportional percentage of its annual marketing budget (36%) on the proposed Tottenham Hotspur partnership while having in place a risk management strategy to properly manage all risks associated with that.
"This can in no way be construed to a scenario of 'putting all your eggs in one basket'."
In a statement on Wednesday, Sisulu's spokesperson, Mpumzi Zuzile, said proposals were received by SA Tourism and processed by a project team before they were sent through to the executive committee and presented to the SAT board.
"Essentially, the SAT proposal is to conclude a memorandum of understanding (MOU) with Tottenham Hotspur Football Club. It is non-binding. Such a proposal must still pass muster within the tourism ministry and is subject to the concurrence of National Treasury, to conform to government prescripts.
"With regard to this matter, Minister Sisulu is still awaiting a report and to be briefed by the SAT board as they are independent and take their own decisions on various matters. It is mischievous to relate this to the imminent Cabinet reshuffle," Zuzile said.
Zuzile added that Sisulu was consulting her legal team and would communicate the way forward in due course.